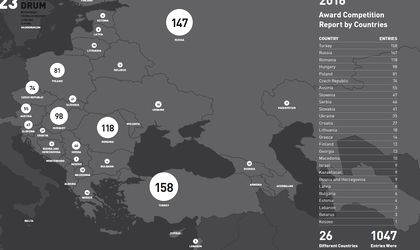 This year's Golden Drum has gathered 1047 works from 26 countries that are competing in the 23rd edition of the festival taking place between October 18-21 in Ljubljana, Slovenia. Moreover, the young creatives submitted 168 works in the competition Off Drum: Ljubljana Poster Award, a sign that the festival is becoming more and more attractive to them.
"We are very excited to see such a big and important growth from the behalf of the independent agencies and, at the same time, a growth in the number of entries from the Adriatic region, a clear sign that it exists a significant creative potential at a local level that has the chance to be recognized by the creative world's elite," said Lučka Peljhan, Golden Drum Competition Director.
27 agencies networks have entered works in the Golden Drum competition this year, compared to 25 in 2015. The big growth though comes from the independent agencies' side, with 442 entries this year, with 46 more than last year.
From the 26 participant countries, Turkey has the biggest number of entries (158) and is followed by Russia, with a significant bigger number than in 2015 (147) and Romania (118).
The biggest growth in the number of entries has been registered for projects coming from Croatia and Georgia. Moreover, after many years, Bosnia-Herzegovina and Kosovo are the newest countries taking part in the competition.
This year's edition of the festival brings a series of novelties in the competition's program. In the section Best Practice, the biggest number of entries is in the categories Public Relations (73), Activation Programme (64) and Branded Content (60), while in the section Best Piece, the category with the biggest entries is Press (147), followed by Film (146) and Out of Home (132).
Moreover, the new section introduced this year – Capture of local spirit – is one of the novelties meant to promote the create spirit of the regions, 42 creative solutions based on the local spirit a region will compete for the award "Best capture of local spirit".
This year's entries will be analysed by two juries formed of 22 renowned international experts. Graham Lang, Chief Creative Officer, Y&R Advertising, South Africa & Africa, is the Jury president of Best Piece, while Eduardo Marques, Executive Creative Director, 180LA, California, is the president of the jury of Best Practice.
The entries in the competition Off Drum Ljubljana Poster Award will be analysed by a jury comprising 5 members and run by Jason Romeyko, Global Executive Creative Director, Serviceplan Group, Austria.
Romanita Oprea