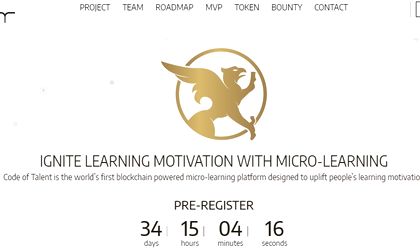 Code of Talent, the start-up founded by four Romanians, has developed the world's first skill-based education blockchain platform integrating short lectures, token incentives, as well as direct interaction between instructors, learners, and employers from around the world.
The company's goal is to give free access to education to anyone interested in their career progress as well as train generations for real skills required by industries no matter where they live.
As part of the blockchain structure, companies seeking labor can see the public ledger of skills from all participants and choose those that best fit their needs.
"Our platform stores the learner's accomplishments on the blockchain making it immutable so that everyone interested can see what their acquired skills are. Thus the platform enables employers to look for and select those best performers according to their skills, also making the recruiting process straightforward and transparent," said Bogdan Ciubotaru, CEO of Code of Talent. The other founders of the company are Vlad Grigoriu, Marius Opris and Adela Grigoriu.