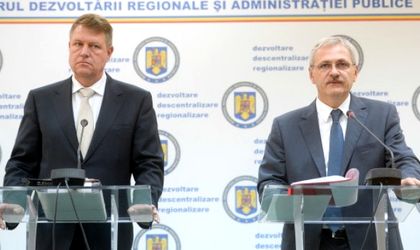 The head of the left-wing party PSD, Liviu Dragnea, said that president Klaus Iohannis could be suspended by the Parliament if this move serves the interest of Romania.
His reaction came hours after Iohannis said he did not agree with the designation of Sevil Shhaideh as PM. Shhaideh was backed by the PSD-ALDE coalition, which has the majority in Parliament.
Iohannis did not provide any reasons for the rejection of Shhaideh but invited the political coalition PSD-ALDE to make another appointment. According to sources cited by HotNews.ro, the Romanian intelligence services issued a "negative recommendation" for Shhaideh because of her husband Akram Shhaideh. The same sources said that Akram Shhaideh and his brothers had close links to the Syrian regime of Bashar al-Assad.
Meanwhile, Dragnea said the coalition will not come up with another proposal for the role of PM because he doesn't have any guarantee that Iohannis will not also reject another person. However, the PSD head talked about the possibility of starting the suspension procedures of Romania's president.
"I have talked to my colleagues, tomorrow, or the day after tomorrow the latest, we will have to take a decision, and citing the one who spoke at 12,00 (president Klaus Iohannis – e.n.), I want to think this through, but not to balance between the personal and group interest, but between what's good or bad for Romania. (…) I have received a torrent of messages from people that firmly ask for the suspension of the president. It is not an easy decision. If, following this analysis, we conclude that it's better to suspend the president, I will not have any hesitation," said Dragnea.
Under Romanian law, if the president is suspended, a public referendum will be organized in which Romanians will be asked if they want the head of state to be impeached. The required turnout for such a referendum is of at least 30 percent of all registered voters.
Former president Traian Basescu survived two impeachment referendums in 2007 and 2012. Dragnea got a suspended jail sentence of two years following the impeachment referendum from 2012, when prosecutors investigated voter fraud allegations. The head of the social democrats is on trial in a separate corruption case at this moment. His political ally, Calin Popescu Tariceanu, the co-head of ALDE, is also prosecuted by anti-graft investigators for false testimony.
Dragnea is the head of the Chamber of Deputies, while Tariceanu is president of the Senate.
Ovidiu Posirca