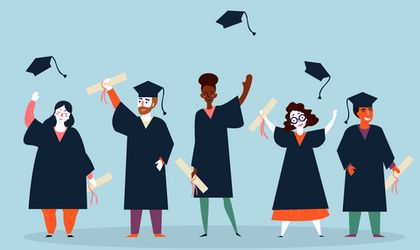 Romania ranks last among the 28 European Union member states in terms of higher education, with only 26.3 percent of its population aged 30-34 having completed tertiary education, Eurostat data show.
"In 2017, at least half of the population aged 30 to 34 had completed tertiary education in Lithuania (58.0 percent), Cyprus (55.8 percent), Ireland (53.5 percent), Luxembourg (52.7 percent), as well as Sweden (51.3 percent). At the opposite end of the scale, the lowest proportions were observed in Romania (26.3 percent), Italy (26.9 percent) and Croatia (28.7 percent)," Eurostat said.
The share of persons aged 30 to 34 who have completed tertiary education is higher for women than men in all EU member states, according to official statistics.
In Romania, 28.9 percent of 30-34-year-olds women had tertiary education in 2017, compared with 23.9 percent of men.
The EU set as a main target, in its Europe 2020 strategy, that at least 40 percent of 30-34-year-olds in the EU should have completed tertiary education by 2020.
But targets are different for each country. In Romania's case, the goal is to reach at least 26.7 percent of 30-34-year-olds with tertiary education by 2020 – seen as an easy target at the moment.
Compared with 2002, when only 9.1 percent of Romanians aged 30 to 34 completed tertiary education, Romania recorded an impressive growth in tertiary education.
But education in Romania has another important issue to address: the country has the third-highest proportion of early leavers from education and training, after Malta and Spain.
"In 2017, the lowest proportions of 'early school leavers' were observed in Croatia (3.1 percent), Slovenia (4.3 percent), Poland (5.0 percent) and Ireland (5.1 percent), while the highest shares were recorded in Malta (18.6 percent), Spain (18.3 percent) and Romania (18.1 percent)," Eurostat said.
Even worse, the proportion of 'early school leavers' increased in Romania during the last decade, from 17.9 percent in 2006.