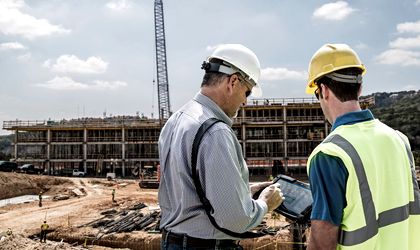 Romania is on the third place in EU on the constructions works growth in June compared with the same month of the last year, with an increase of 4.6 percent, being overpassed by Sweden, which registered a growth of 16.3 percent and Spain 6.9 percent, according to the European Statistics Agency (Eurostat).
This JUne compared with June 2015, production in construction grew by 0.6 percent in the euro area and fell by 0.6 percent in the EU28.
Moreover, Romania had the fifth largest increase of constructions works in EU in June, of 0.4 percent compared with May, being overpassed by Hungary 7.6 percent, Slovenia 2.3 percent, Slovakia 1.7 percent and Spain 1.2 percent. At EU level, the construction works grew by 0.3 percent  compared with the past month, while in Euro area they stagnated.
According to National Institute of Statistics (INS), the construction works volume grew in the first six months of the year compared with the same period of 2015, both as gross series, as well as adjusted series according to the number of working days and season with 5.3 percent, respectively 5 percent.  In June the construction works volume rose with 17.4 percent as gross series compared with May.
Georgiana Bendre