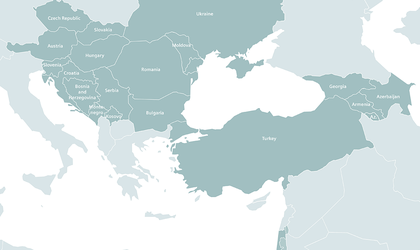 Romania has 37 companies included in this year's Deloitte Central Europe Top 500, placing the country the 5th within the region. Combined revenues of Romania's largest companies amounted to almost EUR 39.6 billion at the end of last year, compared to EUR 37.49 billion last year.
Deloitte Central Europe Top 500, now in its sixth edition, is carried out in 18 countries every year and ranks companies by revenues from sales reported for the previous year.
The full Deloitte Central Europe Top 500 2012 report is available here.
"It's important to notice that although the number of Romanian companies in the ranking this year dropped from 38 to 37, their combined revenues grew by more than 5 percent, in line with the regional upward trend," Ahmed Hassan, Deloitte Romania managing partner, said. "In 2011, the combined revenues of the largest 500 companies in the region grew to EUR 707.4 billion, exceeding pre-crisis level of EUR 665.72 billion, as per the 2009 report. Also, ten of the Romanian companies jumped more than 10 places in the ranking, including three of them that went up more than 100 places. We have also seen four new entries, each of them with activities in different industries. Overall, we may conclude that Romanian companies are able to keep position within the region despite difficult economic climate."
The top of the largest companies in Romania is still dominated by the Energy & Resources industry, with 13 companies, followed by Consumer Business and Transportation (11 companies), Manufacturing (seven companies), Technology, Media and Telecommunication (five companies) and Life Sciences and Healthcare (one company).
"Of all Romanian companies, almost 86.5 percent reported increased revenues in 2011 compared to 2010. Clearly, there is still potential for growth, despite a worsening scenario for the global economy overall, and the tension in the euro zone area," George Mucibabici, chairman of Deloitte Romania, added. "Romanian entrepreneurs are also present in the ranking, with two new entries that need to be acknowledged, since they represent two of the most strategic sectors for Romania – Agriculture and Energy & Resources."
In two separate rankings of the largest 50 banks and insurance firms respectively, Romania is being represented by five banks (compared to two, last year) and five insurance companies (a similar level compared to 2011).
"Obviously, the region – Romania included, is not immune to any impact of the almost daily turbulence that continues to shake our interconnected economies", Ahmed Hassan said. "In such a challenging environment, companies need a clear guidance from the top managers; this is why our report this year focuses on the critical importance of leadership at all levels, as a key driver for organizational and market success."