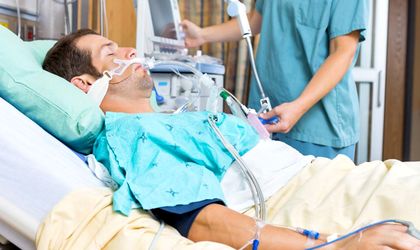 Romania's first National Integrated Multiannual Plan for Cancer Control, something for which local patients have been waiting for many years, should be adopted in June. Nationwide, approximately 48,300 people die from the disease annually, and some sufferers face serious challenges in getting diagnosis and treatment.
Otilia Haraga
The Ministry of Health recently announced that the National Integrated Multiannual Plan for Cancer Control for 2016-2020 will bring new strategies that are in line with European cancer care targets.
The prime minister, Dacian Ciolos, announced that the document could be adopted by June.
"The National Multiannual Integrated Plan for Cancer Control is a debt we have needed to settle for some time (..) I assure you that as soon as possible, I believe by June, we will be able to adopt this plan via a government decision," said Ciolos.
The deputy prime minister, Vasile Dancu, announced that the strategy outlined in the plan will become a government priority and all necessary funds will be made available for its implementation. "We in the government are waiting for the plan as soon as possible, and it will probably be tackled urgently in Parliament as well. (..) I assure you that we will give this project the necessary funds to implement it correctly," said Dancu.
The initiative was hailed by the Federation of Associations of Cancer Patients (FABC).
"We definitely believe this is a good initiative," Cezar Irimia, president of the FABC, told BR. "It does not fulfill all standards as far as the European approach to cancer is concerned. However, it is a good start. Anything can be perfected."
According to World Health Organization (WHO) statistics, Europe has more than 3 million new cancer cases and 1.7 million deaths from the disease each year. Cancer is the second biggest cause of death and morbidity in Europe. While Europe comprises only one eighth of the world population, it has around one quarter of the global total of cancer cases, says the WHO.
In Romania, approximately 48,300 people die from cancer every year, which puts the country high above the average European mortality rate, according to the Ministry of Health. The illness is often diagnosed in its advanced stages, when not much can be done to save the patient. In the case of lung cancer, which is the most prevalent type of cancer in Romania, seven out of ten patients are diagnosed as late as stage four. Likewise with breast cancer, where one in five cases is diagnosed as late as the second or third stage.
However, in spite of the high death rate, cancer patients have been waiting in vain for such a national plan for years on end.
"We have been demanding a real oncology plan for over ten years. Right now, we only have a chemotherapy plan, to which oncology surgery, radiotherapy and palliative care are 'glued'," Irimia told BR.
The national plan will include a series of programs that aim to reduce both the death toll and overall cancer prevalence, and to improve the health of those at risk of developing cancer as well as the quality of life of diagnosed patients, according to the ministry.
It will also include new regional pilot projects for breast cancer and colon-rectal cancer, new strategies for improving the current National Cervical Cancer Screening Program and regional screening for the Human Papilloma Virus (HPV).
Two important components of the plan are promoting a healthy lifestyle that can help protect individuals from risk factors as well as vaccination policies against chronic hepatitis and HPV virus infections.
But is this enough? Cancer patients in Romania have struggled with multiple challenges.
"We have been suffering for years from the disappearance of drugs from the Romanian market, for various reasons: parallel exports, the low price of the drugs hence no profit for producers, and lack of responsibility from the Ministry of Health, which should have clear strategies so that we no longer face these problems. Maybe they are working hand-in-hand with those doing the parallel exports and that is why they are not taking the necessary measures," Irimia suggested.
Ten drugs that are used for treating various types of cancer are completely absent from the Romanian market, and Irimia submitted a notification at the Ministry of Health, according to Agerpres newswire.
"There are six drugs missing which are used in the treatment of hematological conditions, and they are cheap. Another four drugs for treating solid tumors are also missing. In total, ten drugs are lacking. To these, we can add the treatment necessary for women who have been through a mastectomy, the hormonal drug Tamoxifen. There are over 150,000 women in Romania who need this drug for follow-up treatments that last up to ten years. They risk the disease returning, when the costs will increase threefold. Patients' survival odds decrease if they don't take this follow-up treatment," said the FABC president at the time, quoted by Agerpres newswire.
The Ministry of Health had not responded to BR's request for comment on the shortage of cancer treatment drugs by the time the magazine went to print. However, a statement on its website confirms that Tamoxifen is in stock at distributor Unifarm.
In fact, Romania may be facing a shortage of various drugs, and not only those for cancer treatment. Signals from pharmaceutical producers are not good, with the Romanian Association of International Drug Producers (ARPIM) warning that 800,000 patients may not be able to benefit from innovating treatments from July, following the disappearance of 123 drugs from the market.
According to ARPIM, this situation was brought about by the publication in the Official Registry of Minister Order 307/2015, article 81, which lowers the price of original drugs in line with the value of generics.
"This stipulation will have extremely serious consequences for Romanian patients – not just immediate, by limiting their access to treatment, but also long term. The price of drugs will decrease by 35 percent below the European minimum threshold, which is totally unsustainable, and compels drug producers not only to reconsider their product portfolio but also to reassess the opportunity of bringing new drugs to Romania," said Dan Zaharescu, executive director of ARPIM.
Since Romania does not currently have any national oncology registry, data regarding the total number of cancer patients in Romania are uncertain, Irimia told BR. "We have approximately 520,000 patients, of whom around 120,000 are undergoing treatment," he said.