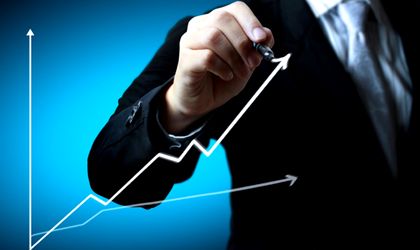 Romania's economy has been placed among the top performers of Europe in a recent report by Saxo Bank, posting the highest economic growth among 20 countries analyzed.
Thus, with a GDP increase of 1.6 percent during the first quarter over the previous one, Romania leads by a detached 0.7 percentage points over Cyprus, which comes in second. Our country's strong advance was brought on by recent wage increases and some fiscal loosening measures, which in turn stimulated domestic consumption.
Private services had the largest contribution to GDP growth in terms of supply, with wholesale and retail sales, transport and tourism contributing 2.1 percentage points after an increase of 13.1 percent y-o-y (18 percent share in GDP formation), shows a report by ING's chief economist Ciprian Dascalu. The IT sector also added 0.6 percentage points due to an increase in activity of 7.6 percent, contributing 6.1 percent to GDP formation.
"This is confirmation of very strong domestic demand after successive administrative measures to boost disposable income, pointing to medium-term inflation risks," the ING economist points out.
In terms of demand, private consumption jumped by 10 percent y-o-y, adding 6.4 points to expansion. Without domestic supply being able to accommodate the fast rising demand, this led to a negative input of 3.4 percentage points to growth from net exports as imports far outpaced the export expansion pace.
"On the positive side, gross fixed capital formation added 1.3 percentage points to the 4.3 percent GDP figure after increasing by 7 percent. Still, entering a new multiannual budgeting period for EU funds is likely to lead to a slow-down in investments, particularly as uptake until now has been less than encouraging," Dascalu further shows.
The Saxo Bank report shows Lithuania and Spain both saw a 0.8 percent economic advance on the quarter, while Germany, Bulgaria and Slovakia followed with 0.7 percent. Germany saw a doubling in its growth rate, stimulated by the expansionist monetary policy led by the Central European Bank, according to the report.
The Netherlands and France posted an advance of 0.5 percent, Austria, Finland and the UK 0.4 percent, while the lowest levels of GDP increase were seen in Italy (0.3 percent), Belgium (0.2 percent) and Portugal (0.1 percent).
"Financially speaking, Europe seems set on a relatively stable upward trend, yet untroubled by the prospect of a Brexit," says Christopher Dembik, Saxo Bank economist, though Greece and Hungary are still on the negative side, while Poland has lost some of its momentum.
Hungary, with a 0.8 percent drop, saw the largest decrease in GDP over the last four years, led by political risks and a slump of 33.9 percent in the constructions sector.
Greece, which is currently going through austerity measures, has a low internal consumption which in turn led to a 0.4 percent decrease in GDP during Q1 over the previous quarter. "Rapid reduction in gross fixed capital formation and household expenditure continued to have a significant negative impact on growth," the report shows.
Latvia and Poland both posted a slowdown in their economies, with a 0.1 percent GDP drop. In Latvia's case, the strong growth in transport and storage and a stable momentum in manufacturing were offset by a significant downturn in the construction sector (down 22 percent).
Poland was also affected by political risks, its economy showing signs of decrease for the first time since 2012, due to a Constitution crisis which has warded off foreign investors.
Natalia Martian