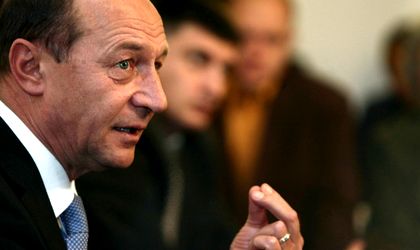 According to Traian Basescu, Romania must enter talks with Moscow on union with Moldova. Moreover, Russia's Putin, Basescu argues, is "a man one can talk straight with". The former Romanian president is attending the works of the Izvoru Muresului Summer University.
"I believe there are plenty of arguments to start discussions with Moscow on this topic, but based on the knowledge of the fact that the citizens of the Republic of Moldova want this," Basescu said from Izvoru Muresului.
The former head of state argued that Romania must use in talks with Moscow the argument that in Moldova there is a large Romanian community, and mirror the declarations and actions taken by Moscow, a country that is protecting Russian-speaking citizens. "These approaches in talks with Moscow, for example, must start exactly from what Moscow does and says. It occupied Anhazia and Osetia, in Georgia, saying it is defending Georgia's Russian-speaking citizens. This was Putin's justification that anywhere in the world there will be majorities, on parts of a territory, that speak Russian, Mother Russia makes a commitment to take care of them and to protect them.
"Based on such a theory, Romania is entitled to talk with Moscow, the fact that in the Republic of Moldova lives a Romanian minority, and talks will start from this. Certainly, I tell you openly, one thing only will not be up for discussion with Moscow, if such an approach will exist and it would mean that there is courage in Bucharest: Transnistria. (…) So, from this point of view, I believe we should start talks with Moscow, they will take a long time, but will probably overlap with the time when in the Republic of Moldova there will be a majority that will want the union to happen," Basescu stated.
According to Basescu, Romanian diplomacy "that has its roots before 1989 is a diplomacy of excessive caution and of a fear not to upset Moscow. Or, I know Putin. It is someone you can talk straight with, although he sticks to his own view. But, first one myst start a discussion to see what he wants. (…) Moscow is not that opaque as it seems and Bucharest isn't either in relations with Moscow. As there hasn't been any progress in the past two years. But Bucharest has the obligation to move past the old-style diplomacy and to go back to an energetic type of diplomacy, at least in the matter of the Republic of Moldova," Basescu said.
The former head of state also warned that union with Moldova will not be possible if Transnistria is part of Moldova, because "it would mean to import in the EU a frozen conflict."
Georgeta Gheorghe