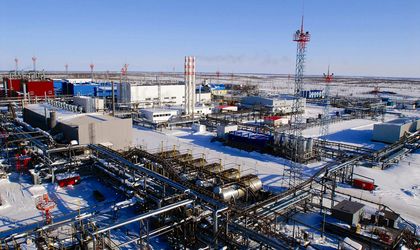 Romania continues to reduce its reliance on Russian gas, as imports from Gazprom declined by 20 percent last year compared with 2016, to 1.19 billion cubic meters, according to data released by Gazprom Export.
In 2016, Romania imported 1.48 billion cubic meters of gas from Gazprom, through two intermediary companies – Conef Energy and WIEE.
"In 2017, Gazprom Group supplied a total of 194.4 billion cubic meters of gas to European countries, 192.2 billion cubic meters being supplied under Gazprom Export contracts. Western European countries accounted for approximately 81 percent of the company's exports from Russia, while Central European states took 19 percent," Gazprom said.
Among the Eastern and Central European states, Romania is a small importer of Russian gas, due to its domestic resources.
Poland is by far the main importer of Russian gas, with imports of 10.5 billion c.m. in 2017, followed by Hungary and the Czech Republic (both 5.8 billion c.m.), Slovakia (4.6 billion cm), Bulgaria (3.3 billion c.m.) and Serbia (2.2 billion c.m.).