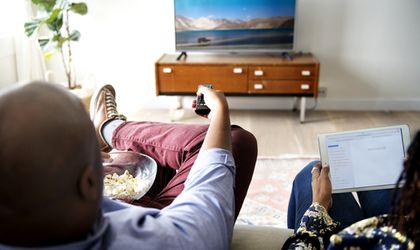 The most recent Eurobarometer conducted by the European Commission found that Romania's population is the second most sedentary in the European Union.
According to the data, the number of Romanians who don't do any physical activity has grown since 2013, which leads to a higher prevalence of ailments such as cardiovascular disease or diabetes. Furthermore, the lack of physical activity is identified as the fourth main risk factor for global mortality, according to the World Health Organization.
Only 2 percent of respondents in Romania were involved in sports-related voluntary activities – a lower number than in the 2013 survey. Other findings show that only 2 percent of respondents are members of a sports club, 5 percent are members of a gym, 1 percent are part of a socio-cultural club, 19 percent of another type of club, and 71 percent have no sort of club membership.
"Almost three quarters of Romanians spend at least two and a half hours each day sitting down, in front of the TV or computer. 51 percent of Romanians never take part in physical activity," according to a statement by the Romanian Sports Institute (ISR).
ISR president Adrian Socaciu said that politicians and governing bodies should understand the importance of physical activities in a society. "The EC's Eurobarometer shows that the number of people who take part in physical activity to improve their health is down by 12 percent from 2013. From my point of view, politicians will continue to view sports as something minor, if they don't understand the role and importance it has in society," he said. "What's missing is a real partnership in three essential sectors for a healthy population: sports, healthcare and education," Socaciu added.
Photo: dreamstime.com