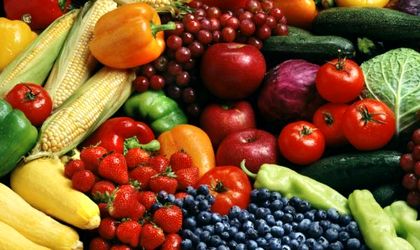 Romania harvested over 6 percent of the total amount of fruits and berries and over 7 percent of the total vegetables harvested for the EU in 2015, according to Eurostat.
Published on June 22 2016, the dataset shows that Romania's total EU production area shares of fruits and berries (peaches, strawberries, cherries and apples) reached 6.3 percent, whereas the EU  production area shares for vegetables (tomatoes, cucumbers, carrots and courgettes) hit 7.3 percent.
The richest harvest of fruits of the country was the production of cherries, with  7.7 percent (the equivalent of 68.1 thousand tons). The star vegetable harvest was the cucumber production, which reached 5.4 percent (127.7 thousand tons).
The statistics show that Spain, Italy and Poland were the main producers of fruits and vegetables in the EU in 2015. However, the United Kingdom was the biggest producer of carrots, with  14.2 percent of the total number.
Poland harvested 1 in every 4 apples produced in the EU in 2015 (with  25.0 percent of total EU harvested production), ahead of Italy (19.2 percent) and France (15.5 percent). Spain (34.4 percent), Italy (32.9 percent) and Greece (23.2 percent) produced together almost all (90 percent) EU peaches.
"Spain (29.0 percent) was also the main EU producer of strawberries in 2015, followed by Poland (15.6 percent), Germany (12.5 percent) and Italy (10.4 percent). For cherries, Poland was the main  EU producer (25.8 percent), followed by Italy (12.6 percent), Spain (10.7 percent) and Greece (10.0 percent)," according to Eurostat.
Andreea Dulgheru