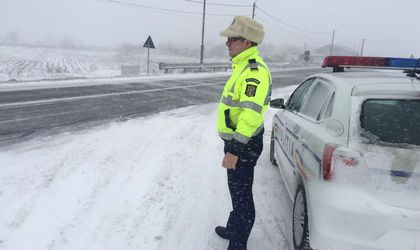 As Romania is under an orange warning for snowfall, the authorities have decided to close the A2 highway linking Bucharest to Constanta. One person lost her life in northern Romania due to the bad weather.
The Romanian Police said that traffic was also restricted on the A4 highway between Ovidiu and Agigea. As of Tuesday morning, all the national roads in Calarasi county were closed. A significant number of national roads were also closed in Constanta, Giurgiu, Ialomita, Teleorman, Tulcea and Vrancea counties.
Several country and local roads were also closed for traffic in the southern part of Romania. Meanwhile, authorities have cancelled 85 train routes, 15 flights, while the main ports were shut down due to the bad weather.