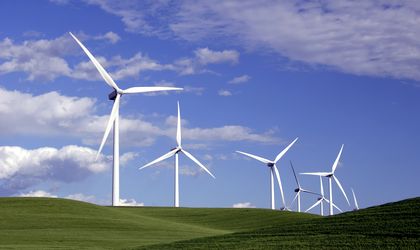 A 250MW wind park entered into testing phase last week, taking the total wind capacities that are in testing stage to 750MW, said last week Zoltan Nagy-Bege, general manager of the energy regulator ANRE, during the AEEC (Associated European Energy Consultants) conference, which was organized by the law firm Pachiu & Associates.
Investors, mainly in wind, have been attracted by the generous support scheme, which grants tradable green certificates to power produced from renewable sources.
The country reached 1,447MW of incentivized wind capacities by September, which were allotted 2.9 million green certificates, according to Transelectrica, the grid operator. Wind is currently granted 2 green certificates. One certificate is valued close to EUR 57.
However, the renewable sector is grappling with the legal provisions in the electricity and gas law, which may hinder further green investments. Private power producers can't close long term purchasing power agreements (PPAs) any more. This essentially led to a freeze in the financing of renewable projects, as PPAs acted as guarantees for investors.
"We are analyzing the possibility to allow through secondary legislation for certain types of companies to close bilateral negotiated contracts. I will take a while," said Nagy-Bege. Another option is the set up of a new platform on OPCOM, the energy stock exchange, which would allow unlicensed producers to trade electricity.
The energy regulator ANRE is going through a restructuring process at the moment, after it was transferred under Parliament control, so it may take a while for the expected changes to be enforced.
"The PM and ANRE would like to change the law. The main opponent is the IMF, joined by the World Bank," said Ionel David, Public Affairs Manager of the Romanian Wind Energy Association (RWEA)."We are asking for a change of the law, at least for private producers," stated David.
He warned there will be an excess of green certificates in the market starting 2015 and their price will start to go down, but we don't know by how much. David explained the investment in a wind project is recovered in 12 years.
The Romanian grid needs around EUR 500 million in fresh investments to continue connecting renewable projects. With an uncertain funding source, Transelectrica requires power producers to invest in strengthening the grid. However, investors say they have to pay for new power lines across the country, not in the area where the project is located.
"Our TSO (transmission system operator) is obliging investors to make investments as they could be curtailed or disconnected, not in line with European or Romanian regulations," said Delia Vasiliu, partner at law firm Pachiu & Associates.
Wind projects with total installed capacity of 8,039 MW received technical connection agreements (ATR), according to Transelectrica.
Ovidiu Posirca