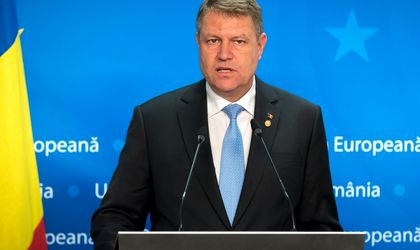 President Klaus Iohannis said on Thursday at Cluj that Romania is in a "non-stage" regarding the euro admission, adding that there's no good in fixing a date, because "we need to fulfill some conditions that we theoretically fulfill, but because of supererogation, some politicians proposed to be part of the Euro zone from 2019. It's so unrealistic that the technical commissions that had to exist in this case, didn't met."
He said that since 2015 the situation of the admission to the Euro zone haven't been evaluated.
"At a certain point, even at the beginning of 2015, I wished we were in 2019, but it wasn't realistic and achievable. Since then, the situation hasn't been revaluated,  not the restablishment of the integration, but of the preparation so that when we get there, not to have issues, because the admission to the euro zone means giving up to many leavers of monetary policy that we use and that helped in this stage. The fact that we have an economic growth of 5 percent when others have one or two percent has an explanation. Among specialists there are rumors that a real convergence slightly higher is needed. It's generally accepted a minimum convergence of 60 percent and from the discussion, the general idea is that we should exceed this level if we enter euro zone," said Iohannis.
"We don't have a deadline and I don't think we should set one, as EU has numerous crisis and that we don't manage very well. It's not a problem that we don't have a deadline. We are preparing as it's natural, through economic growth and we'll see when it's opportunistic a deadline to enter the euro zone," added Iohannis.
A report published this week claimed that Romania could be ready to join the Euro zone in 13 years. It would take 9 years if the economy would grow by 5 percent anually in a sustainable way.
Georgiana Bendre