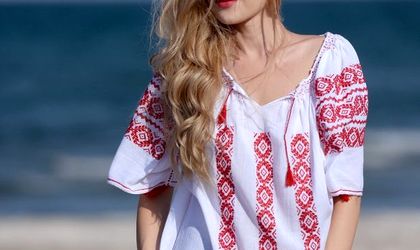 For the fouth consecutive time, Romania celebrates "Universal Ia Day" (Ziua Universala a Iei), an event dedicated to the traditional national costume on June 23, 2016.
People are invited to celebrate this event  by dressing in a full traditional costume or specific items of clothing in the same style and posting pictures of themselves showing the national costume on social media (Instagram, Twitter or Facebook), using the hashtags #ZiuaIei2016, #lablouseroumaine, #Romanian Blouse, #IAday2016. This year will also mark the first time a movie dedicated to the event will be created.
Lovers of the Romanian costume are also invited to create their own "Ia Day" event on Facebook, mentioning the time and location. All the events validated by the La Blouse Roumanie Association will be published on the global event map.
"Universal Ia Day" was initiated by the La Blouse Roumanie community on January 7 2013 and has shortly become a  global event, celebrated in  over 50 states. The event was officially recognized in 2015 by the Washington DC City Hall, thanks to the initiative of Bogdan Banu.
Andreea Dulgheru