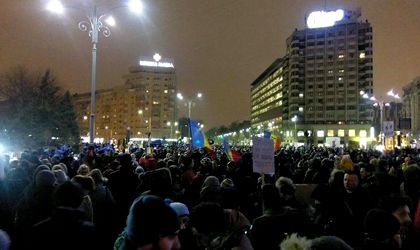 A new wave of protests is expected to sweep through Romania, despite the cold weather. Protests against the Grindeanu Government's Emergency Ordinance that changed the Criminal Codes and partially decriminalized abuse of office are planned for Bucharest, Cluj-Napoca, Timisoara, Brasov and other cities around the country.
In Bucharest, protesters will gather in Victoriei Square on Saturday and Sunday afternoon. Saturday's rally organized by Facebook page 'Coruptia ucide' (Corruption kills) will start at 1 pm in Victoria Square and will continue with a march to Parliament Square, where protesters will make a human chain.
Later on Saturday, the same community organizes a rally for parents and children, titled "Education for democracy – children's march." "They came with hooligans, we bring our children. Saturday, as you proposed to us, let's take our children by the hand, in our arms, in prams, on our shoulders and make the most peaceful and colored protest!," the message posted on the even't Facebook page said. "See you in Victoriei Square starting with 11 am, and at 4 pm we start marching towards the Parliament. When we reach the Parliament, we make a human chain around the Parliament. "before we start marching, or after we reach the Parliament we can leave them in their grandparents' care. We remain on the streets to defend their future! In fact, Romania is not ours, is theirs. (PS. They say their bribe is one candy per child)" the message reads, in reference to unverified information disseminated by certain Romanian media that protesters received incentives to take to the streets.
Georgeta Gheorghe