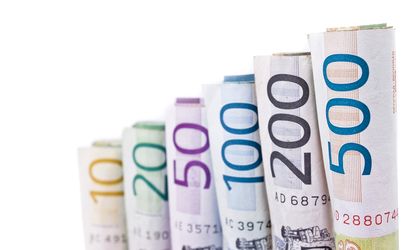 The Ministry of Public Finance attracted on Monday EUR 1.75 billion from the international markets through an Euro bonds issue in two stages.
According to a release, the first installment is a new issue valued at EUR 1 billion, with a maturity of 10 years and a coupon rate of 2.375 percent. The second installment in value of EUR 750 million is the relaunch of the issue launched in October 2015, with the initial maturity of 20 years and a coupon of 3.875 percent.
"The success of the issue of Eurobonds launched yesterday show the credibility that Romania enjoys on the international markets and the appreciation for the economic evolutions, for the economic growths perspectives, as well as for the macroeconomic and financial stability, underlined also in the recent reports of the international rating agencies," said the minister of Public Finance, Viorel Stefan.
The Ministry says that both installments were made at decreasing costs for the Romanian state. Thus for the 10 year-maturity a yield of 2.411 percent was obtained, the lowest historical level for this maturity. The issue is similar with the 10-year maturity bond auction made in October 2015, which had an yield of 2.845 percent and was relaunched at an yield of 2.55 percent in February 2016.
Moreover, the margin of the loan risk of Romania registered the lowest level for this maturity.
The total offer amounted to EUR 2.86 billion and there 281 subscription orders from investors. Out of these, 136 were for the issue reopening and 145 orders for the new issue.
Also the relaunch of the issue with maturity on October 29 2035 attracted the investors' attention. It was made at the lowest yield, of 3.55 percent, in drop compared with the ones registered at the initial launch from October 2015, as well as at the relaunch from February 2016.