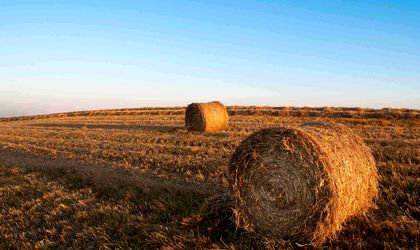 Investments in technological upgrades are badly needed to take the discussion about Romania's agriculture from potential to actual accomplishments. This would in turn increase the sector's profitability and attractiveness to even more investors, BR heard.
Simona Bazavan
On paper at least, Romania has everything it needs to attract more agribusiness investors and turn its agriculture into a booming sector. There is plenty of land priced well below the Western European average, EU farming subsidies and EU funds are available for investments, and banks have a growing appetite to finance this sector. Food products benefit from lower VAT, domestic consumption is on the rise and exports remain below the sector's production capacity. These are the arguments that have attracted and continue to attract investors, foreigners and locals, to the Romanian market.
"There are both portfolio investors as well as major companies that would like to invest in this sector in order to start production. So there is no clear pattern and the profile of the investors is constantly changing following the dynamic of the sector," Mihai Anita, assurance partner and private company services leader at PwC Romania, told BR. Buying plots of farmland is still very attractive to investors, he added. There is also a growing interest in taking over local food producers, such as the acquisition of Albalact by Lactalis, a trend that will continue, given that the industry is highly fragmented, added Anita.
Recent years have seen encouraging developments for the local agribusiness industry, yet many pundits argue that there is still plenty of room for growth and that results are not as good as they could be. The reason for that is a number of deep-rooted problems that continue to affect the sector's competitiveness. "Investors are more and more interested in this area, but this growing interest is confronted by practical obstacles such as the ownership status of the cropland, for plots that are put up for both sale and lease, as well as the fragmentation of this crop," said the partner. Land fragmentation and the resulting number of small and noncompetitive farms remain a problem, as does the lack of infrastructure such as that needed for irrigation.
As for the agribusiness sectors that are most attractive to investors at present, KPMG analysis indicates that cereal farming continues to offer the biggest profit. It is also the sector that has the highest number of medium and large active companies. "Based on statistical data, it offers a profit margin over costs of between 10 and 20 percent. Nevertheless, there are at the same time many large companies cultivating cereals that post a low profitability level," Teodora Alecu, director of tax and transfer pricing services at KPMG in Romania, told BR.
Fewer large players have invested in vegetable crops, with only around 50 big or relatively big companies active in this sector. Their profitability is on average between 1 and 12 percent, and the expected profit margin is in the region of 5 to 7 percent on top of costs. "This means that an investor expecting to get a 10-20 percent profit would not invest in vegetable crops, unless they come up with ideas for new technologies and processes which would allow a higher return on investment," explained Alecu. For the same reason, even fewer large companies have invested in fruit or tobacco crops. In the case of fruit trees, for example, the profit margin has dropped from around 15-30 percent in 2007-2008 to 3-10 percent in 2014. Higher investments have been observed in animal rearing, but rather than being the result of higher profitability levels in this sector, this was mostly done to meet EU requirements in the field, she added.
One constant is that many companies in all farming sectors struggle with low profitability, and the solution for them is investments in technology, stressed Alecu. "Technology in agriculture offers premises for its future sustainable development. Investors ultimately look to the profit margin they earn. Limited investments in assets, routine services and works done would result in low profit margins. Highly intensive technology, specialized people, state-of-the-art work processes and planning of the work would result, at least according to economic theory, in higher profits. New, modern technology would confer on the agricultural sector a competitive edge and compliance with the quality constraints coming from EU legislation," she concluded.
In search of horse power
With global prices of agricultural commodities languishing at low levels, ensuring high productivity becomes crucial for farmers.  Yet when it comes to technology, Romania still has a lot of catching up to do, even when looking only at the acquisition of basic farming equipment such as tractors.
"There is a direct link between productivity and technology. In Romania there is still a big deficit of farming machines and equipment. And this deficit inevitably affects productivity. Thirteen times fewer tractors are sold in Romania than in France," Arnaud Van Strien, the general director of IPSO Agricultura, told BR. He added that he hopes this gap will be reduced and that in the next five years tractor sales could double depending on the legal, fiscal and financial conditions.
And that is something that is badly needed. "For the last 15 years, farming equipment sales in Romania have been far from the volumes which would enable or sustain a solid increase in the country's agricultural production. There are still around 100,000 tractors in Romania whose useful life was up 20 or 30 years ago," George Stanson, business manager for Romania, Bulgaria, Croatia and Serbia at Case IH & Steyr Balkans, told BR. Equipment bought in the 90s is also due for replacement, but should current sales volumes of new equipment be maintained, the local farming sector would need at least 50 years to reach the level of horse power per hectare of Western Europe, he warned.
Large and middle-sized farms are doing better than smaller ones when it comes to investing in new farming equipment. Moreover, they are looking to buy better performing machines. "We have seen that farmers are increasingly interested in purchasing electronic systems for monitoring, guiding and consulting. Software solutions will perform even better over the coming period," added Van Strien.
But while big businesses enjoy good records with financial institutions, which in turn have become more open to financing agricultural operations, small farmers have a tougher time. "The major concern is related to small farmers of under 50 ha/farm which haven't got a strong background with financial institutions and therefore find it more difficult to get financed. And, as I mentioned before, all these small farming operations must become the backbone of Romanian agriculture one day," added Stanson.
In 2015, tractor sales were flat y-o-y and there are no hopes for considerable growth this year either. This means sales volumes will remain in the range of 1,900-2,000 modern tractors, due to factors such as the slow start of EU funding through the new rural development program (PNDR) for 2014-2020. "Secondly, commodity prices are still unclear for 2016 and so the buying mood of farmers is still not clear at this stage of the year," he added.
The full half of the glass would be that this still leaves considerable room for growth in the years to come. The empty half is that progress should happen faster. "In order to have a tangible impact on Romania's overall agricultural productivity, the minimum volume of new tractors sales must be around 5,000 per year. This would mean between double and triple today's volumes," concluded Stanson.