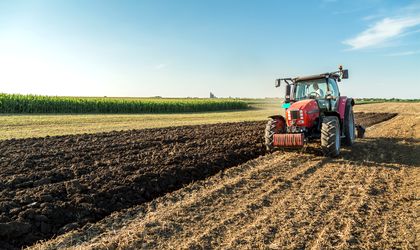 Small and medium-sized farming businesses that invest in higher value-added products stand to benefit the most from the funding opportunities brought about by Romania's National Rural Development Program (PNDR) for 2014-2020. Moreover, consultants say that the new program is overall more investor-friendly than the previous one.
Simona Bazavan
A total of roughly EUR 9.4 billion is available for investments in rural areas through Romania's PNDR for 2014-2020. Enabling sustainable growth and simplifying requirements for accessing these EU funds were the main targets in drafting the PNDR for 2014-2020, say local authorities. To some extent, this was achieved and the new PNDR offers a clear improvement on the one for the 2007-2013 period, argue consultants.
"The current PNDR is about more than just modernizing farms. Overall, the whole program seems to be more dynamic and more focused on the development of rural areas, not only of agriculture. The previous program offered support to farms as input providers in the food chains, while the current PNDR increases the chances of receiving funds for farms that cover more than one – preferably all – of the segments in the food supply chain," Johannes Becker, the owner of local consultancy BeckerConsult, told BR.
Small and medium-sized farms stand to gain the most from the new PNDR, say consultants. "Mid-sized family farms, which are the majority of farms in the EU, but not yet in Romania, have the best chances of receiving funds," stressed Becker. Those that are part of farming associations, such as cooperatives, stand even greater chances, Rodica Lupu, managing partner of Loop Operations, another local consultancy, told BR. "A good indication for this is the co-financing share required of the beneficiary. This can reach 70 percent for large farms and up to 50 percent for small farms but goes as low as 30 percent or no co-financing requirement at all for cooperatives or young farmers who either set up or take over a farm," she explained.
However, very small farms, which continue to represent the majority of local farms, as well large farms, have fewer funding options through the new PNDR. The reason for the first is the authorities' strategy to encourage an increase in the average local farm size in order to boost competitiveness, even though the imposed threshold for such farms is too high for the Romanian reality on the ground, argues Becker. Very large farms of more than approximately 400 ha find themselves in a similar position. While they are eligible, it has become more difficult for them to get EU funding for investments, which does make sense, since they have easier access to bank loans than smaller operations, argues Becker.
The advice he gives potential investors looking to secure EU funds for their projects is to "look a bit over the fence". "Do not focus exclusively on primary agricultural production, but rather diversify. Whoever wants to transform their agricultural products into something with a higher value will have better chances – not only of receiving EU funds, but also of surviving the current crisis of extremely low prices for agricultural products," he recommends.
A more investor-friendly PNDR
There are several improvements to the new PNDR that promise to make life easier for investors.
"A very important one is the elimination of the requirement for public tenders by the introduction of standard prices for equipment. In the past, public tenders were one of the main sources of mistakes made during project implementation," said Becker. Another significant improvement is the option to submit projects online and the reduction of the number of inspections conducted by the authorities on site. It has also become a bit easier for applicants with smaller-sized projects to reduce consultancy costs following the introduction of standardized projects, he added.
Nevertheless, old problems still persist and despite improvements, application procedures remain cumbersome, points out Lupu. Even when it comes to basic aspects such as accessing relevant information, potential beneficiaries face difficulties. "We have seen an improvement in the communication between the Authority for Financing Rural Investments (AFIR) and beneficiaries and stakeholders. Despite this, the process of identifying a source, drafting the project and successfully implementing it remains an unjustifiably complicated procedure," she added.
The good news is that the authorities are taking steps to improve things even further and this should in turn make it easier for even more investors to secure EU funding for their businesses.