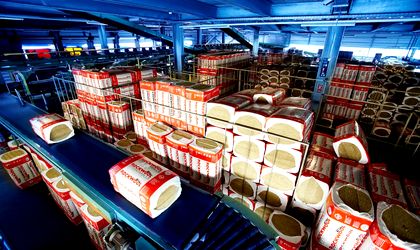 The Rockwool Group has started, in July, the construction works at the basalt mineral wool plant in Prahova County, a project that requires an initial investment of about EUR 50 million. Florin Popescu, business unit director of the company, says that next year the company will sell the first mineral wool produced in Romania.
The plant is located on an area of ​​about 30 hectares in the Ploiesti West industrial Park in Aricestii Rahtivani, near Ploiesti, and will generate about 150 jobs directly and another 300 indirectly for services and logistics. The company expects a turnover increase of 10 percent to 15 percent in the next year after the factory start producing.
The Rockwool 50 million-euro factory construction is on schedule and will most likely be completed in the summer of next year when production will begin.
"The factory has a more special area, which supports the furnace, where the volcanic rock melts, which will be built on the principle of a higher furnace, with a strong foundation, and the main energy resource is the coke, which we have to take from suppliers, and most likely will be imported, in Romania is not very much produced. The group has 34 factories in the world, 29 of which produce mineral wool, and the Romanian plant is meant to meet the demand in the country. If there is capacity we will also export, "Popescu stated.
The factory in Prahova will be the largest in Romania, but the second one, the first being the one developed by Saint Gobain's Isover, which also announced they will add production capacity.
"In fact, in the country there were others, but they were too small and had to close, "said Florin Popescu.
The mineral wool market
Mineral wool and mineral fibers have been used in Romania from soviet example, although polystyrene has become a basic material for the last 20 to 25 years.
"In general, basalt wool is used by real estate developers who make residential projects in the premium area. We are selling to them", Rockwool director said.
The basalt wool market has an yearly volume of about 90,000 tons with a value of over EUR 50 million.