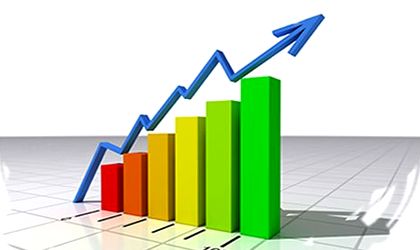 The average three-month ROBOR index, the indicator that determines the calculation of costs of loans in RON with variable interest, increased this Monday to 2.06 percent from 2.04 percent, the level from Friday, according to the National Bank of Romania (BNR).  
At the end of December 2017, the average three-month ROBOR reached 2.22 percent.
The average three-month interbank offer rate ROBOR is the main indicator that sets the interest rates for RON currency borrowers. The evolution of interest rates on the monetary market is correlated to liquidity fluctuations, which registered an excess on the Romanian market.
"The recent surge in Robor interest rate quotes was quite mild. It was to be expected that after the NBR hiked the policy interest rate, money market interest rates would re-align somewhat higher, but the existence of the excess liquidity in the market is diluting the signalling impact of the policy rate. Excess liquidity reappeared after December's deficit spending and an RON 8 bln government bond maturity and it will only gradually dissipate. Also the NBR will only have another policy meeting in April and it's far from clear they will hike then. This is why I expect 3M Robor rate to stay around the current level or perhaps only a bit (10-20 bps) higher in the next couple of months," said BCR head-economist, Horia Braun, for Business Review.
The index at six months, used in the calculation of mortgage loan, increased to 2.36 percent, from 2.34 percent.
The ROBOR index, at nine months, which represents the interest rate paid at the loans in RON attracted by the commercial banks from other commercial banks for nine month period, increased to 2.41 percent from 2.39 percent, the value registered this Friday.