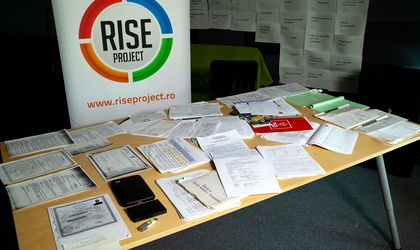 Journalists at Rise Project published on Facebook an announcement regarding a suitcase that was found in a rural part of Teleorman county by a local man, containing a huge amount of essential information about the Tel Drum corporation and data from phones and computers belonging to the company's managers and employees. DNA prosecutors did not have access to this suitcase when they conducted a physical and digital search of the company's headquarters last year.
According to the cited source, the suitcase contains:
– A black hardcover that saved all 63.39 GB of a key computer at Tel Drum, including thousands of invoices, contracts, balance sheets, currency, proxies, phantom company acts, account statements etc.
– Thousands of photos/videos from company events, as well as personal images from the group's leaders, showing off their standard of living, documents, selfies, screenshots of chats.
– A Samsung P1000 Galaxy Tab tablet that belonged to Tel Drum's general director, Petre Pitis. It contains, for example, over 1,000 photographs of exotic trips he made with his entourage, company events and family moments.
– An agenda with 980 phone numbers collected in recent years, including: Basescu, Hrebe, Dancila, Banicioiu, Pieleanu or "L I V I U".
– A memory stick with working information from a Tel Drum head.
– More than a thousand documents, such as copies of personal documents of the Dragnea family, or the detailed plans for a giant property in Alexandria.