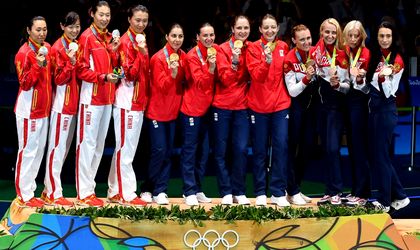 With one gold, one silver and three bronze, Romania ranked 47th after the final medal count. This is the country's lowest haul after 1952 and comes amid a scandal involving the Romanian team's Olympic kits that prompted Romanian Olympic Committee (COR) head Alin Petrache to announce his resignation.
Romania's women's team brought Romania's only gold medal at the 2016 Rio Olympics after defeating China in the final. Tennis players Florin Mergea and Horia Tecau won silver in the men's doubles competition and the women's coxed eight also came third in the rowing event. The last bronze medal was won by Russian-born Romanian wrestler Albert Saritov, in the men's 97 kg freestyle wrestling event.
The Romanian Olympic team's modest performance, with the lowest haul in six decades, comes amid a scandal involving the official kits, which shrank and deteriorated quickly, prompting accusations of counterfeiting. The kits the athletes used, such as t-shirts, tops and official tracksuits, deteriorated after a few days. According to reports, the logos peeled off and some of the clothes left dye stains on athletes' bodies. According to an investigation by sports journalist Catalin Tolontan, the official kits, which are made by Italian brand Kappa, also display a tag with the name of French company Sol's Europe. The company was chosen by the Romanian Olympic and Sports Committee (COSR) via tender, with Bucharest-based Pax Creative Sports acting as an intermediary. Pax Creative representatives confirmed for Tolontan that the kits were not up to standards, but said that, due to the short time, Romania's team did not have another option but to travel to Rio with the kits provided or risk not having official kits.
Romanian police have begun to investigate the issue and conducted searches at the headquarters of Pax Creative Sports, and later issued a statement saying they suspect counterfeiting. On August 12, the police seized 180 Olympic kits and other 1,000 other kits from the company's premises as well as documents relating to the purchase.
In the wake of the scandal, COR president Alin Petrache announced mid-August that he will step down in order not to hinder the ongoing investigation into the matter of the counterfeited kits. "I'll resign after the Games so an inquiry will not be hampered by the hierarchy," Petrache said in an official statement published on the COSR website. "I personally apologize and on behalf of the COSR, both to athletes who had to suffer, as well as to the public opinion," Petrache's statement reads. Petrache is also embroiled in a plagiarism scandal. He is accused of having plagiarised two articles and one book published between 2012-2013.  
According to GSP, Sports Minister Elizabeta Lipa, winner of eight Olympic medals in rowing, and Alin Petrache, were planning to hold a press conference in Rio, but that was reportedly canceled after Romania won the first medals.
Georgeta Gheorghe