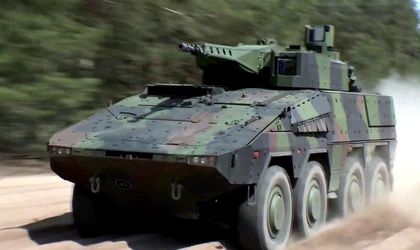 German technology group Rheinmetall, which is also active in the defense sector, will create a joint venture with Romanian Moreni Auto Mechanics Plant, part of state-owned ROMARM, for the construction of a 8×8 transport carrier.
The new firm, in which the two companies each have 50 percent stakes, is called Romanian Military Vehicle Systems and will manufacture the vehicles that will be used by the Romanian armed forces.
"The new companies aim to make new 8×8 armored vehicles in Romania, but also the new equipments that meet the operational demands of Romanian soldiers, the initiative coming on the back of the need of providing armored vehicles for the troops of the Ministry of National Defense," said ROMARM, which is coordinated by the Ministry of Economy.
Neculai Banea, state secretary for the defense industry at the Ministry of Economy, said that the construction of this vehicle makes sense from a strategic and economic perspective. He added that this new investment will generate jobs and provide lower maintenance costs for the vehicles.
"Surely this is a key moment for the revitalization of the national defense industry and we hope that the production series for this carrier to start as soon as possible," said Banea.
The Romanian armed forces might need up to 800 new transport carriers, according to HotNews.ro.
Ovidiu Posirca