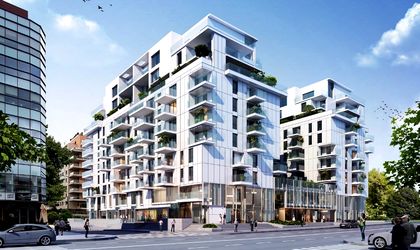 Reynaers Aluminium registered 15 percent more business in the first half of 2018 compared to the same period in 2017. The first 6 months of 2018 brought to Reynaers Aluminum in Romania a growing business as a result of the delivery of a large volume of joinery and sliding doors for the completion of large projects in the market as well as for starting work for new notoriety projects from both Bucharest, as well as in the country.
A significant contribution to the company's sales growth was the supply of aluminum solutions for the residential segment.
"In recent years, we are enjoying maintaining a steady trend of constant turnover. We continue to expand our portfolio of projects both in residential, office, retail and logistics, and maintain our position as the largest Reynaers Aluminum in Eastern Europe. Later, distribution of residential sector systems is the dominant area of ​​our business, accounting for 70% of sales in the first half of 2018. Increasing supply of systems for this segment of the market is due to major changes that have occurred in developers' perceptions as well as those who build their homes, quality, thermal performance, durability and warranty, being now the first choice in materials, "said Daniel Popa, country manager Reynaers Aluminium Romania.
For July this year, Reynaers Aluminium Romania will complete the supply of systems for the 156 residential units project One Herastrau Plaza, developed by One United. 
The total project development cost is estimated at approximately EUR 34 million. For this project, Reynaers Aluminium Romania provided premium solutions worth around EUR 400,000.
At the same time, the latest Reynaers Aluminium innovation, the Hi Finity sliding system has contributed significantly to these results. Hi-Finity combines the latest aesthetic trends with outstanding performance. This sliding door offers the possibility of making a full glass wall with an ergonomically designed handle and a hidden locking system.