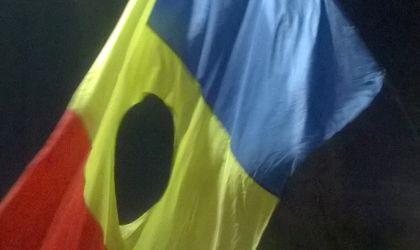 Hundreds of people gathered on Saturday afternoon in the Victoriei Square for an event announced on the social networks as "22 December – Our Revolution", then kicked off in a rally to the University Square.
Part of the people bear Romania's and European Union's flags. In the Victoriei Square a banner imprinted with "Honour the martyrs for freedom!" and another one with a lit candle on it with archive photos from the Revolution of 1989, were unfolded on the ground.
"Never once in the 29 years on this very day of 22 December have I been so happy!" said the president of the 21 Decembrie 1989 Association, Doru Maries.
At the beginning of the action, a group of persons chanted "We resist, we never give up!"
According to the organisers' message, who asked the participants to bring candles, the event aims mainly to commemorate the victims of the December 1989 events.
"December '89. 1116 dead for freedom and justice. They didn't die for the pardon of the criminals!" says a message on the cover image of the online announced event. "They believed in freedom in the darkest times of Romania," the organisers say about the victims of the 1989 Revolution.
According to the social page, the rally will take place from Victoriei Sq via University Sq to Dalles Hall and to the Royal Palace.
At the University Sq. and the Dalles Hall moments of silence will be held, and in front of the Royal Palace is to be read the list of the "1,200 heroes fallen for freedom"