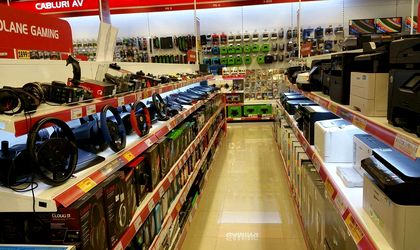 Altex Romania, an electronic-IT retailer from Romania, has upgraded the store from Satu Mare. Starting August 11, besides the refurbishing, the clients can also see in the Altex store an expanded range of products, from IT, communications, big and small household appliances, auto and multimedia, on a surface of 1,000 sqm.
"The consumers are the center of our concerns, this is why we want to permanently come with new solutions and various products in a welcoming and modern space, according to their expectations. It's important that the clients' visit in the store to be as pleasant as possible, this is why we'll continue to invest in solutions that come in their support, improving their buying experience," says Dan Ostahie, CEO of Altex.
Because the finalization of the upgrading process of the store from Satu Mare coincides with the same day as Black Friday of Summer, clients can benefit of special offers up to 80 percent starting this day and until August 17.
The store will be open from Monday to Sunday, between 9:00 and 21:00, offering clients the possibility to access also post-selling solutions, as well as giving back the products in maximum 31 days from acquisition, service and warranty.
Georgiana Bendre