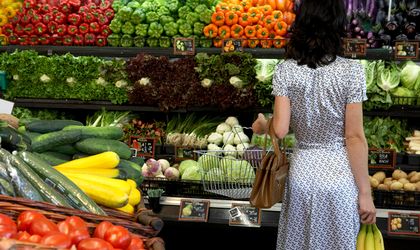 In February 2016, compared to February 2015, the retail turnover volume (excluding the trade with motor vehicles and motorcycles) went up by 18.4 percent (from 15.4 percent in January 2016), adjusted series according to the number of working days and to seasonality, according to the Romanian National Institute of Statistics (INS).
More accurate reporting from retailers on non-food items, "as lower VAT reduced the incentive for tax evasion", was "likely to be behind the 17.0 percent y-o-y acceleration in the category," stated Ciprian Dascalu, chief economist, ING Romania, in a report.
Similar, but more pronounced reasons, were considered to be behind the 26.3 percent year-on-year growth in food items sales, "as the category was subject to a deeper VAT cut (from 24 percent to 9 percent in June 2015)," added Dascalu. Moreover, once the effect of the food VAT cut drops out of the statistical base, "we expect non-food sales to lead the retail sales expansion," said Dascalu.
The increase of 9.7 percent in the retail of automotive fuel in specialized stores also contributed to the 18.4 percent increase in retail turnover volume (excluding the trade with motor vehicles and motorcycles) seen in February 2016, further says the INS data.
According to Dascalu, up until now this quarter has seen hard data for domestic demand come in on the strong side. "Moreover, wages and consumer lending dynamics are offering the foundation for the trend to continue, despite somewhat weaker consumer sentiment recently," added Dascalu.
Additionally, "we expect domestic demand due to higher household disposable income and the 2.2 percent of GDP fiscal stimulus in December 2015 alone to offer sufficient buffers against the slowdown in external demand in [the first half of 2016], already reflected in the recent disappointing data for the industry sector," stated Dascalu.
These retail figures "reflect strong domestic demand and should further contribute to trade balance deterioration and keep underlying inflation ex-tax cuts elevated," according to Dascalu.
Andreea Tint