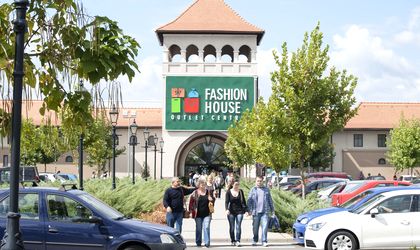 In the first semester of 2016, the retail sales of Fashion House Bucharest went up by 10.9 percent, while the conversion rate increased by 16 percent year-on-year.
During the first half of 2016, the average transaction value (ATV) also maintained an ascending trend with a 8.3percent increase. Plus, the outlet center recorded a considerable increase in average spending per head (+25.5 percent compared to H1 2015).
According to Brendon O'Reilly, Managing Director of the Fashion House Group, interest in outlets shopping is on the rise. "As the local retail market is maturing, consumer demand becomes more sophisticated and the outlet model of shopping gains popularity: Romanians are increasingly selective, they now have a wider array of brands to choose from, they know which of these suit their needs best and where they can find their preferred fashion items at the optimum price/quality ratio. The performance of Fashion House Outlet Centre Bucharest is evidence of this ascending trend – we are seeing more customers returning enthusiastically to the outlet, more eager to buy, as they discover the advantage of getting more value from their spending on branded fashion," O'Reilly said in a statement.
In 2016 the company leased an additional 2,000 square meters at a signing rate of around 2 new brands per month. The list of new tenants include Desigual, Colin's, Triumph, Sport Vision, Issimo Home, R&R Boutique, Various Brands, U-Grow, Multibrand Street & Go and Land Mobile.
"We are close to full occpancy of phase 1, leading the way to the project's expansion in the near future. We will continue our pursuit to enrich the tenant mix, to offer extra added value and shape up an improved and more exciting customer experience", said Sorin Ioan Blaga, General Manager of Liebrecht & wooD Romania and Fashion House Outlet Centre Bucharest.
Georgeta Gheorghe