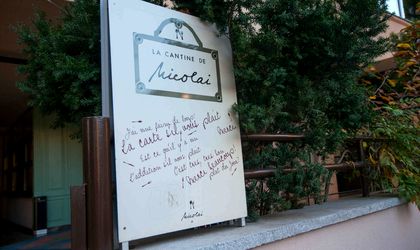 When my best French friend recommended La Cantine, he captured my attention, for he is a fine fellow with impeccably good taste. He was correct, for the food is up-market bistro rather than 'haute cuisine' from an exciting menu. But, more of that later.
The décor is pleasant, bright with pictures adorning every space on the walls. It was perfectly acceptable, and Blondie and I settled down for a relaxing Saturday lunch. It is authentically French, right down to the two waiters who emulate their French/Parisian counterparts perfectly.
For those of you who have not dined in Paris, rest assured that their notorious waiters are the worst in the world. They are rude, miserable and believe they are your gastronomic superior – and they let you know it! As a paying diner, you are a major inconvenience in the peace and harmony of their lives, so they will come to your table when they are ready to do so, and not a minute before.
So back to Bucharest. After waiting for 15 minutes, an unsmiling waiter took our order. In a virtually empty restaurant, it took an unbelievable one hour for our order to arrive, sans excuses from our miserable serveur. We wanted to question the reason for the delay, but despite our efforts to attract our 'serveurs', they would not make eye contact with us, so we waited and waited.
And was it worth the wait? Well, yes, for I was in good company and the food was excellent. Blondie ordered a 'foie gras terrine with 2 sides of fig and onion confit' at RON 59. It was what it said it was, and perfect. But her main of 'fillet steak on a rosti (dehydrated potato shavings, fried) in real truffle juice was superb at RON 80. I mooched a slice of her steak, and it was the best I had tasted in years.
So I waived my hands in the air to get the attention of our Mr. Miserable 'serveur', and asked him to thank the Chef on my behalf for such a great dish, and would he please give me his butcher's contacts, as I would like to buy from him for my home. He returned smiling for the first time, but it was a smile of victory as he said "the Chef will not tell you".
The Chef was mean with his favors and good manners, but he was generous with his talent. My main was as good as it gets. I chose a 'corvina fillet with parsnip puree in clam sauce'. A corvina is a sea/ocean fish and made a delightful contrast to the boring, monotonous river and lake fish which dominate every menu in this land. It even came with a few fresh peas. Read that again, fresh shelled peas. Not frozen. It was superb.
By now we were so happy with our meals that our smiling faces said it all. This threw our two 'serveurs' into confusion, for clearly they had failed in their mission to mess up our experience. So as a last attack from them, when Blondie asked for an espresso, we waited for ten minutes, even remonstrating three times as to the missing coffee. Our 'serveur' had the bar make it, but he had no intention whatsoever of bringing it to our table until it was almost cold.
And finally, to prove their French provenance, they had the temerity to add a cover charge. Quelle horreur. This odious practice has rightfully disappeared from the land, but it eased my conscience, as for the first time in my life, I refused to leave a tip.
So do I recommend the House? Absolutely, and with a big 'yes'. But, be warned. You know what to expect.
Michael Barclay