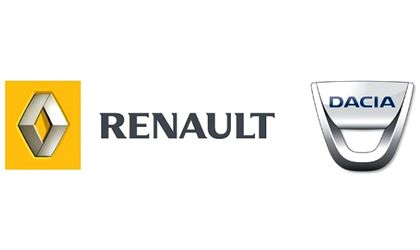 Renault Group turnover in the first quarter was EUR 13.15 billion up by 0.2 percent from the first quarter of 2017, while sales were up by 4.8 percent up to 935,041 vehicles (personal and commercial). Renault worldwide market share is 4 percent, up by 0.1 percent after Renault and Dacia brands reported new record in sales.
In Europe, Group sales increase by 2.8 percent on a market growing by 0.6 percent due to the success of the new Duster and Koleos models. Outside Europe, the Group recorded sales up by 22.1 percent in Eurasia and 21.3 percent in Central and South America, while slowing down in Africa-Middle East-India (-5.3 percent) and Asia Pacific (-18.6 percent).
 In the first quarter of 2018, the Group's turnover amounted to EUR 13.155 billion up by 0.2 percent, while using the exchange rate and regional sales, the Group's turnover progresses by 5.4%.
The turnover of AUTO, excluding AVTOVAZ, is EUR 11.64 billion, down 2.5 percent. This is mainly due to the negative impact of the exchange rate of -4.8 points: depreciation of the Group's main currencies (the Argentine peso, the Brazilian real, the Turkish lira and the US dollar). The impact of volumes is positive (+2.3 points), as well as prices (+1.2 points) especially in emerging countries, compensating for depreciation of currencies.
Sales Finance (RCI Banque) has a turnover of EUR 793 million, up 27.7 percent compared to 2017. If the accounting method had not changed – as explained above – the growth would have been 5.8 percent. The number of new financing contracts increases by 4.7 percent, while the average productive asset increases by 13.2 percent to 42.9 billion euros. AVTOVAZ's contribution to the group's turnover is EUR 716 million for the first quarter, up 25.8 percent, due to the Lada sales trend, despite the negative effect of the exchange rate of EUR 85 million.
In 2018 it is estimated that the world market will grow by 2.5 percent compared to 2017. For the European market, the growth forecast is 1%, as is the French one. Estimates are also developing for the following markets: Russia: 10%, Brazil and China: 5%, India: 6%.
In this context, Groupe Renault confirms its objectives:
increase in turnover (constant exchange rate and region);
maintaining the Group's operational margin above 6 percent;
generating a positive free operating cash flow for Auto activity.
Total sale per brand
Total, January to March sales
2018
2017
%
RENAULT
VP (Personal Vehicles)
543 852
537 048
1,3%
VU (Commercial Vehicles)
104 679
97 146
7,8%
VP+VU
648 531
634 194
2,3%
RENAULT SAMSUNG MOTORS
VP
19 105
25 952
-26,4%
DACIA
VP
160 825
140 649
14,3%
VU
10 752
10 184
5,6%
VP+VU
171 577
150 833
13,8%
LADA
 
 
 
VP
82 481
62 479
32,0%
VU
3 609
3 064
17,8%
VP+VU
86 090
65 543
31,3%
JINBEI & HUASONG
 
 
 
VP
1 342
1 357
-1,1%
VU
8 396
14 469
-42,0%
VP+VU
9 738
15 826
-38,5%
GROUPE RENAULT
VP
807 605
767 485
5,2%
VU
127 436
124 863
2,1%
VP+VU
935 041
892 348
4,8%
Total sales
Total, January – March
2018
2017
%
France
177 689
172 304
3,1%
Europe (excluding France)
314 781
306 885
2,6%
Total France + Europe
492 470
479 189
2,8%
Africa Middle East India
120 512
127 191
-5,3%
Eurasia
165 773
135 774
22,1%
South and Central America
103 477
85 281
21,3%
Asia Pacific
52 809
64 913
-18,6%
Total excluding France + Europa
442 571
413 159
7,1%
Total worldwide
935 041
892 348
4,8%