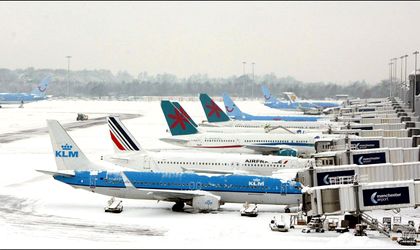 Romanian airports posted a 23.3 pct increase in passenger numbers in 2017, to 20.2 million, a record high due to both international and domestic flights, which soared as a consequence of poor road and rail infrastructure, according to figures released by National Institute of Statistics (INS).
Total passenger numbers on the 17 Romanian airports have increased from 16.4 million in 2016 to 20.22 million in 2017.
International passenger traffic rose 19.6 percent last year, to 17.48 million, and the number of passengers carried with domestic flights soared 53.7 percent, to 2.74 million, official data show.
Henri Coandă International Airport, controlled by state-owned National Company Aeroporturi București,  announced its passenger traffic increased in 2017 by 17 percent to a record of 12.8 million.
The second airport of Romania by passenger traffic is Cluj Napoca International Airport, with 2.68 million passengers in 2017, followed by Timișsoara International Airport (1.62 million) and Iași International Airport (1.14 million).
Passenger numbers soared in Romania in the last years due to income rise, cheap flights offered by low-cost companies and poor infrastructure across the country.
In the last couple of years, low-cost companies like Wizz Air, Blueair and Ryanair entered domestic flights market in Romania, controlled for years by state-owned Tarom, trying to benefit from rising appetite for flights between the large urban areas.
But lack of investments in increasing airports capacity is already affecting passenger's comfort, especially in Henri Coandă International Airport.