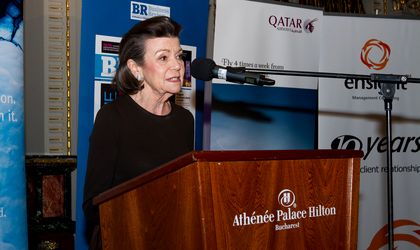 Opinion: Marina Sturdza, patron of the British Romanian Chamber of Commerce, Journalist and Commentator
How is Romania today perceived by its own citizens and by our neighbors? Where do we rank today in the progress of nations, within the European and global contexts?
As a Romanian who lives in Europe, and in North America, as well as in my native Romania, I have watched the evolution of Romania since we finally broke free of the Communist yoke in 1989, from several perspectives.
Like many exiles of the Communist regime, I left this country as a child, believing I would never return. I grew up in the civil societies of Switzerland and Canada, far away from my native country and my family and its history. Decades later, with the election of a truly democratic government, and the promise of true civil liberties, I finally returned, in 1997, when it was also my privilege, together with the International  Herald Tribune and the then Romanian Government, to organize the first major Romania Investment Summit. The event was attended by some 400 of the world's most important investors and international finance institutions.
That was when everyone was euphoric about Romania's investment and development potential and all that could be foreseen was an unlimited upward trajectory. But Romania was a fragile democracy, struggling with the transition towards a true market economy. Corruption would prove to be a firmly anchored enemy of true progress. The so-called grey economy flourished, while the legitimate one took quite a few hits.
Perhaps the biggest reality to be addressed would show that decades of communism had quashed personal initiative, true management experience was actually very hard to come by, and many ministers and even several governments were unprepared to manage efficiently. Teamwork was not much in evidence, and good intentions were often felled by lack of management skills.
That much (abused euphemism)"lack of absorption capacity" proved to be very true; we were indeed limited in our capacity to effectively use the funds that were generously on offer from many sources. Romania certainly had talent but we didn't know how to use it  effectively, our institutions were run-down and no one trusted them, industry had suffered from decades of lack of investment, and hardly had time to tool up to become globally competitive, before the global economy began to take a step backwards.
In my reading, most of the early and large investors with deep pockets and international experience, especially  in other parts of Eastern Europe, did very well, in particular those that had the staying power and clout to circumvent what would turn out to be one of the greatest deterrents of all, the overweening bureaucracy. It wasn't even just the bureaucracy, it was the sheer incompetence of that bureaucracy that often proved to be the biggest hurdle, that would impede the growth of what is the backbone of any country and economy, which is the small and medium-sized industries. We desperately needed direct foreign investment, but our machinery proved more cumbersome than most, and sometimes impenetrable.
We had investors from many countries, and many of them contributed greatly to the progress of this nation, but perhaps the greatest contributions would prove not to be quantifiable in either dollars or euros, they would come in the form of knowhow and good example, good practices and good governance, in notions such as transparency and reliability, in training and exposure to excellence and in the exchange of human and charitable values. The reconstruction of a true civil society would prove to be the most valuable investment of all, teaching a bruised citizenry their individual and collective rights, and how to benefit from democracy. This would be a process, and surely not an investment with an overnight return.
Fifteen years later, bad old habits die hard; the expectation of pay-off or pay-back, whether overt or sub-rosa, is still common currency. All foreign investors have encountered such practices. A full generation later, the old tycoons still wield a great deal of power, whether visible or under the horizon. It is still cowboy territory economically. Fiefdoms that totally flaunt all the rules, whether Romanian law or EU charter, still exist.
Media content can readily be purchased for a relative pittance (with rare exceptions); pride in the profession of journalism has certainly not hindered reprehensible blackmail tactics. Libel laws may nominally be writ, but you can still destroy or seriously damage anyone's reputation within a few hours. Differentiation between fact, opinion, outright fabrication and dubious rumor virtually does not exist.
The rules are endlessly malleable. The text of the law may be impeccable, but its application quite another and that application remains singularly selective.
Ministers come and ministers go, and the ground rules apparently change with them. Policies are rarely in place long enough to assess their success or lack thereof. With four different governments in 2012 alone, it has often seemed virtually pointless to try to remember the names of those in function or their incumbents. Not surprisingly, this constantly shifting ground makes investors wary. Petty internecine political squabbles make Romanian politics look like a bad soap opera in which there surely are very few heroes… Restitution of property, whether in kind or financial, is at a virtual stand-still; there are more Romanian cases at the Strasbourg courts of justice than other nations combined.
But with or without effective government, some things clearly progress. New (and expensive) restaurants open weekly and they are full. New shops (deliriously expensive ones) open monthly and one wonders whom they sell to. New construction continues, while graceful old buildings are systematically deleted overnight. One knows not how the permissions are given (though one can speculate).
Meanwhile, roads are pitted and pocked, even though the taxpayer pays for constant repairs. Hospitals are run down, doctors under-equipped and diminishing in numbers and you had better have a family to care for your daily needs, because the hospital doesn't… or you'd best be equipped to provide incentives to the under-paid and over-worked staff. Deplorable, but true. These protracted growing pains have colored Romania's international image, In the end, every nation is responsible for its own image and Romania has never presented a concerted picture, nor has any government yet devised a consistent policy on tourism that would highlight our singularly rich, natural and built heritage.
The Romanian Cultural Institute which had very successfully promoted Romania's dazzling cultural assets, its music, film, theater, literature, art and folk traditions through the last few years, is now, in the eyes of many observers, being willfully and systematically dismantled, with catastrophic budget cuts and an incomprehensible new direction (or lack thereof). Small wonder then, that mixed messages are so often transmitted.
Why has it taken so long for Romania to make the transition from an inert Communist state, to taking active responsibility for its present and future? Why has yet another generation been largely sacrificed?
Democracy is a learning process, and it takes time. Citizens who have lost their voices, who relied on government for everything, who do not yet know their rights, need time to learn the power of democracy and to find their rightful place in the community.
As a still evolving democracy, still struggling with the aftermath of Communism and a fragile global economy, Romania does not need charity, but it does still need a helping hand, to permit our citizens to resolve social and economic problems with dignity, knowing that help is at hand. Romania has always had a generous spirit, and has always been a country with a strong civil conscience.
But Communism destroyed the fiber of this country, damaged mentalities, destroyed belief in institutions. Perhaps the saddest legacy of those communist years is the one least talked about – the loss of heritage, history and heroes, and the loss of moral and civil role models takes time to remedy.
Societies define themselves through deeds of valor, by examples of good behavior and generosity. They take pride in their ancestry and achievements, and they pass these values from generation to generation, from grandparents to children. But when you delete history, when you delete our heroes and our heritage, when you delete our intelligentsia and our meritocracy, essential qualities are lost…
That is what happened to this country during the communist years. How could you help your peers when you no longer trusted any institution, when you were afraid your neighbor or your brother or even your children might betray you? Fear was a monstrous instrument of control, and it decimated this country. How could you know about noble behavior when your entire past and achievements were simply obliterated? How could you help others when you had no means? Romania has still not healed from these deep wounds to its identity and civic pride.
But this society has vigor! Out of the ashes of Communism which did us such damage, a new generation is emerging, one that is renewing the centuries-old traditions… a new sensibility, an era in which people have begun to trust, in which institutions begin to have confidence. At the same time, many who have been abroad have integrated good customs and traditions, such as volunteerism. Ideals and aspirations begin to seem achievable, just possibly, for a coming generation.
Today, in June 2013, there are some potential reasons for cautious optimism on the horizon.
Contrary to early opinions of over-reach and what many called "brashness"and  ill-advised early actions, in the initial aftermath of Prime Minister Victor Ponta's  definitive election victory, (some of the commentary largely fuelled  by the cut-throat animosities between Romanian political parties), tempers appeared to have cooled on all sides, and given way to a more temperate dialogue.
It's not exactly a rapprochement, but tensions between the President Basescu's camp and the Prime Minister have, at least publicly, diminished to a civilized stand-off. There's a distinct change of tone… certainly the sobering fiscal, judiciary, and economic realities, plus a few sharp raps from the EU, have had a sobering effect. Both the die-hard local antagonists, and the international community acknowledge the change. "He learns fast," is what one hears about Ponta these days, a grudging amelioration of perceptions. In the race for Direct Foreign Investment (FDI), crucial to Romania's development, perception is often as important as absolute reality.
Investors, who can place their money anywhere, and who had looked askance at Romania during the last fractious pre-election year, seem disposed to take another look. A jaded electorate, weary of political excesses, seems prepared to hope a little, or at least to wait and see….
While constitutional issues, corruption indexes and judiciary appointments are still under intense scrutiny, Ponta is clearly determined to be in for the long haul. He is ambitious, young, and has surrounded himself with some competent advisors, clearly planning to guide Romania's 2019 EU Presidency to a successful outcome. He is still saddled with an uncomfortable coalition, but seems to be building an increasingly positive personal image, across generations and party lines.
Most observers would agree the six-month report card will be favorable… and everyone hopes for Romania to live up to that ever-elusive promise.
Marina Sturdza fled her native Romania in the early days of the communist regime. She returned to this country in 1997, as principal organizer of the International Herald Tribunes first Romania Investment Summit. Marina Sturdza lives in the UK, North America and Romania and plays an active role in the development of a true civil society in Romania. Here, she gives her 15-year overview of Romania's position in the European and international context..