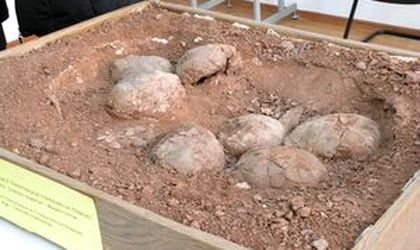 According to Agerpres news agency, a 65-million year old dinosaur egg nest is on display at the Info Centre of the Dinosaurs Geopark in Hateg. The display marks the opening of the info center in Hateg, an institution affiliated to the University of Bucharest.
"The tourists coming here in the heart of the Hateg area, in the city of Hateg, will be firstly told why, where and how they can visit the geopark. Secondly, an exhibition will open here, and it will be developed in time. For now, the major item on display is a dinosaur egg nest, 65 million years old, dating back to the Upper Cretaceous," said the financial and patrimony manager of the Dino Geopark of Hateg area, Cristian Ciobanu.
The info center has also recently adopted a resolution by which they affiliate with the University of Bucharest in order to jointly create an open-air museum of dinosaurs in the Hateg area. The museum will feature 20 life-size dinosaur replicas, in ten areas stretching over four hectares. The project will be built near the General Berthelot village, near which lies the Tustea paleontology site, where egg nests of small dinosaurs were unearthed.
The Dinosaurs Geopark of Hateg is the only such protected area in Romania. It is gaining international recognition by being included in the European Network and the Global Network of Geoparks, under the aegis of UNESCO.
The geopark stretches over 102,300 hectares of land and was opened in 2000, as a project of the University of Bucharest together with the local authorities in the area and Hunedoara County Council.
Photo courtesy of Agerpres News Agency
Oana Vasiliu