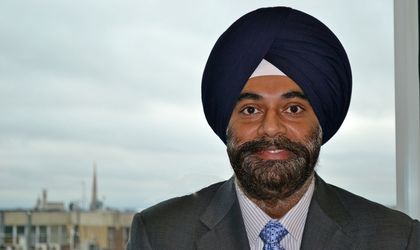 Starting July 15, Ravinder Takkar, CEO of Vodafone Romania, will be appointed as chairman Vodafone Group Services, Regional Business Development, where he will be responsible for representing Vodafone's interests in India, including ensuring the successful creation and integration of the new Vodafone India joint venture with Idea.
In addition, he will take responsibility for Vodafone's business development in the Africa, Middle East and Asia Pacific Region (AMAP) and will report to Vivek Badrinath, CEO for AMAP. Takkar ends a three-year mandate as CEO and President of Vodafone Romania, a role he took on in May 2014.
"I spent three fulfilling years with Vodafone Romania in which I had the opportunity to build together with my management team and our employees on the most important pillars of our business: network performance, customer experience, financial stability. For three years in a row, our network was certified as Best in Test in Romania by P3 Communications, all our internal and external tools to measure customer satisfaction show us that our customers enjoy a superior experience, which we managed to translate in a constant growth of our customer base across all segments, the annual service revenue had a sustained growth as well. I also had the great joy to celebrate with our customers and employees the 20th anniversary since we launched the first digital mobile network in the country," said Takkar.
Vodafone Group will announce soon the new CEO for Romania.
Takkar joined Vodafone in 1994 and has held a variety of senior roles in both Vodafone Group and Vodafone's joint venture companies, including Enterprise Business Unit Director and Strategy Director of Vodafone India, Group Product Development Manager for Vodafone Live, Chief Technology Officer for Vizzavi and other operating roles in Vodafone Spain and Vodafone Portugal. Takkar was a board member of Vodafone India and Indus Towers (a joint venture between Vodafone India, Airtel and Idea). Previous to his role of CEO and President of Vodafone Romania, he was CEO of Vodafone Partner Markets, being responsible to ensure business growth by expanding Vodafone's footprint with the addition of new partners.  Prior to joining Vodafone, he was a management consultant at DMR Group.