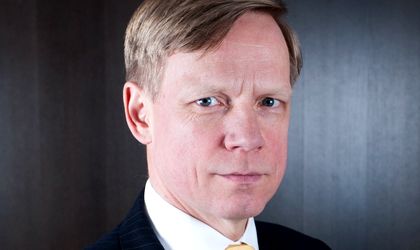 Raiffeisen Bank Romania recorded a net profit of EUR 100 million in 2016, close to its 2015 figure of EUR 98 million.
 "The total assets were up by 6 percent up to EUR 7.4 million. What makes me glad is that it's about an increase in assets that comes mainly from clients relation, from the loans activity. The taxes and direct and indirect contributions were worth EUR 89 million," said Steven van Groningen, president and CEO of Raiffeisen Bank Romania.
There was an increase of the loans portfolio by 10 percent from EUR 4.24 billion in 2015 to EUR 4.65 billion in 2016. The newly approved financing reached EUR 2.5 billion, out of which a third were approved for individuals. Consume credits recorded a good evolution, while the legislative framework affected negatively the new loans for apartments acquisition, according to Raiffeisen Bank.
There was also a solid capitalization, with a solvency rate of 16.8 percent, over the requirements of the regulations. The capital profitability was 15 percent. The credits/deposits rate was stable at 0.75.
The non-performative loans rate was 8.3 percent in 2016, under the average of the Romanian banking system of 9.5 percent.
For the third year in row, the new loans for SMEs registered a growth by 10 percent, due also to the active participation in programs with supernational entities, so that the new loans through these programs went up by 50 percent compared with 2015.
Moreover, financing for corporations doubled compared with 2015, with a high performance both for medium size corporations, as well as for big corporations, says Raiffeisen.
The deposits from clients registered a consistent increase of 11 percent, supported mainly by the evolution of current accounts of individuals, a growth by 30 percent compared with 2015.