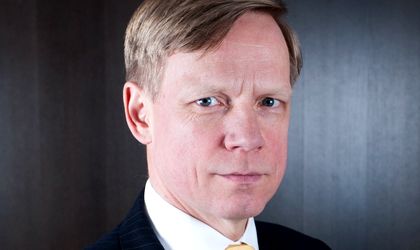 Raiffeisen Bank Romania said its net profit was up by 9 percent to RON 491 million (EUR 105.9 million) in 2017 versus the previous year as the bank saw an increase in fresh lending, while the risk costs continued to fall.
The bank also recorded an 8 percent increase in the assets to RON 36.1 billion (EUR 7.78 billion).
Steven van Groningen, president & CEO of Raiffeisen Bank, said that that 60 percent of the new loans were granted to local entrepreneurs and large companies in 2017, up 21 percent y/y. According to the executive, the volume of new loans gained 19 percent to RON 13.6 billion. Raiffeisen said that 57 percent of the loans went to individuals and the rest to companies.
For retail customers, the bank granted over RON 4.7 billion for consumer and mortgage loans. Meanwhile, deposits were up by 13 percent to RON 29.7 billion.
The bank's revenues were slightly up to RON 2 billion, while expenses rose by 7 percent to RON 1.2 billion due to investments in technology and the increase of wages.
Raiffeisen said the risk costs fell by 25 percent due to a better payment behavior of individuals and companies. The rate of non-performing loans fell from 8.2 percent to 6 percent.
The portfolio of individual customers remained relatively constant at 2 million. Out of this figure, 475,000 were active in online banking making over 16 million transactions.
There were also 100,000 SMEs and 5,600 corporations in Raiffeisen's portfolio.
The bank's number of employees fell from 5,235 to 5,190, while the network of branches shrank from 478 to 451 units. It had over 1,000 ATMs, 19,000 POS and 189 multifunctional machines.
Meanwhile, the consolidated profit of Raiffeisen Bank International stood at EUR 1.1 billion. The bank will propose a dividend of EUR 0.62 per share.