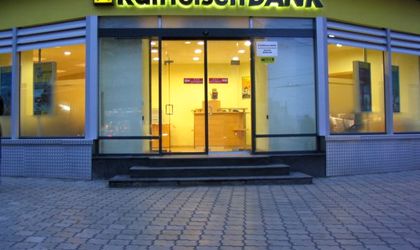 Raiffeisen Bank  boosted its financing activity for SMEs by 30 percent in the first semester of 2016, compared with the similar period of the last year. The total loans portfolio values was EUR 550 million, up 7 percent versus H1 2015.
Out of the total loans, over 40 percent were for investments and almost 60 percent were in the local currency.
"Most of the medium size companies are businesses of local entrepreneurs, which developed quickly, reaching a certain maturity level. The relations with these partners is coordinated by Raiffeisen Bank through the regional centers of companies situated in the main cities from the country. Also, the managers are in these cities and others, the closeness to the clients' businesses being an advantage, to understand and adapt better the new solutions with the local particularities," said Mihail Ion, executive director for medium companies and public sector of Raiffeisen Bank.
The biggest gain in finacing activity was registered in the FMCG, transports, constructions and cars production sectors.
"It's a beneficial context for businesses development, considering the growing demand, the accessibility conditions for finance and the favorable fiscal regime for profit reinvestment. The companies have good conditions to apply the feasable investment projects and to strengthen their market position and competitiveness," added Ion.
Georgiana Bendre