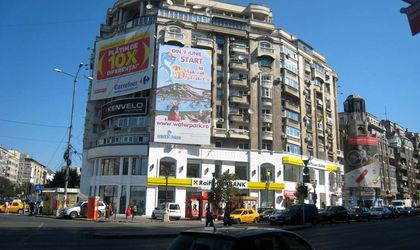 Raiffeisen Bank has inaugurated today the new office for its branch in Unirii Square, with an investment totaling EUR 400.000. The bank currently operates a network of 541 units across Romania.
"In this moment, the network of branches is properly dimensioned ensuring a good coverage of the country. We are in a permanent and dynamic process, taking into account the evolutions on the real estate market, and the changes on the local markets", said Vladimir Kalinov, vice-president for the Retail Division of Raiffeisen Bank.
In 2011, Raiffeisen Bank has relocated the banking units in large cities: Constanta, Iasi, Timisoara and Bucharest. The company is also considering further expansions on the short term in Iasi, Arad, Constanta, as rent prices have decreased by an average of 20 to 30 percent in the last years, from the 2008 peak. In a particular case, the bank was able to negotiate a 50 percent decrease of the rent price.
Raiffeisen offers banking services for 2 million customers, SMEs and companies in Romania. The bank reported a net profit of EUR 39 million for the first six months of 2011, with a total asset value of EUR 5.17 billion.    
Ovidiu Posirca