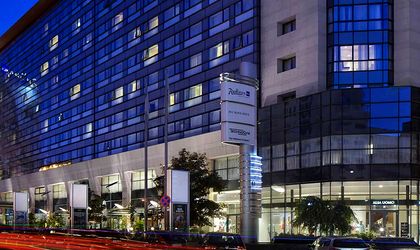 Israeli Elbit Imaging, which controls Bucuresti Turism, the operator of Radisson Complex in Bucharest, said it got a non-binding letter of intent from an investment fund interested in taking over the local hotel operations.
The subsidiary of Elbit Imaging plans to sell its entire shareholding of around 98.2 percent in the in a company owning the Radisson Complex in Bucharest based on a property value of approximately EUR 177.5 million.
The deal could be closed in the next three to four months if the buyer submits a binding offer and gets financing. In addition, the deal has to be vetted by the Competition Council in Romania.
The seller will use the net proceed to repay banks loans and to support working capital adjustments, according to a statement submitted by Elbit Imaging to the Nasdaq.
The Radisson Complex has 763 rooms, comprising Radisson Blu, the five-star hotel with a capacity of 487 rooms and the newly renovated four-star Park Inn Hotel with a capacity of 276 rooms and 7,200 sqm of commercial area that includes the biggest Casino in Bucharest, a fitness center and fashion shops.
The complex is managed by Rezidor, part of Carlson Rezidor Hotel Group.