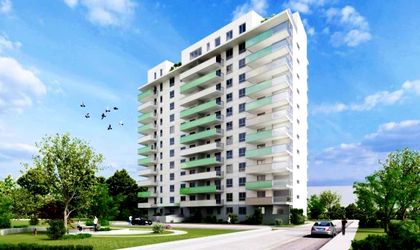 The Radacini Group, through its division dedicated to the real estate sector, Radacini Estate, builds the Aviatiei Tower premium residential project in the center of Bucharest's most important business area, with an investment value of EUR 20 million.
The first phase of the project comprises 134 apartments and will be delivered in autumn 2019. The residential complex is located opposite the Promenade Mall, in the immediate vicinity of the Marriott Courtyard Hotel and the A + class office buildings, between Floreasca, Barbu Vacarescu and Herastrau Railway Station.
According to estimates published in 2018 by the Cushman & Wakefield Echinox, approximately 40 percent of employees operating in such an environment are concentrated in the buildings near Aurel Vlaicu and Pipera metro stations (approximately 97,000 of an estimated total of 250,000).
"The premium residential product we offer is suited to excellent outdoors and meets the needs of a high-expectations audience. Aviatiei Tower by Radacini is at the heart of major urban destinations, from work to leisure. You cross the street and go to the cinema, or take lunch, watching the city from the highest altitude. Due to modern positioning, quality and design, the project offers investment security, but also the ability to maximize long-term investment value, "said Filip Todosia, Radacini Estate representative.
Launched in February this year, the first phase of the project includes the construction of 134 homes, from 2 and 3-room apartments to penthouses/duplex and 172 parking spaces. For structural works, Conarg AG, one of the largest Romanian companies dedicated to residential construction, was contracted.
Radacini Estate is the new division of construction and sale of luxury apartments of the Radacini Group, one of the largest automotive market players in Romania, which owns car brands such as Opel, Mazda, Volkswagen, Peugeot, Suzuki, Honda, Citroen , Cadillac, Chevrolet (service), Audi (service). Prior to the launch of the division, the group also built a residential project in the Plevnei area and an office building with avant-garde architecture, under the signature of architect Dorin Stefan.