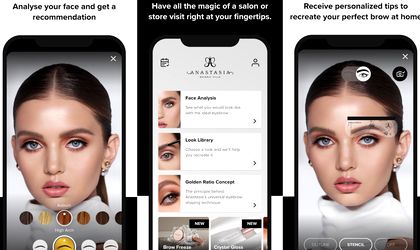 QUALITANCE, the international innovation, tech, and Artificial Intelligence company founded and headquartered in Romania, has announced the co-design and co-development of the first mobile application of global beauty brand Anastasia Beverly Hills. The app, which is the result of a collaborative project that started in 2020 and has been launched on the market, brings to life the beauty brand's strategy to provide users with Anastasia Beverly Hills expert eyebrow experience on their mobile phones, for the first time ever.
"Anastasia Beverly Hills: The Brow App" leverages Anastasia Soare's patented Golden Ratio Shaping Method® and years of professional beauty experience into a digital guide for newcomers and brow pros who want to enhance their eyebrows for any occasion. With the help of a unique algorithm and Machine Learning, the app analyzes the user's facial structure, according to a custom mix of user preferences and ideal proportions defined through Anastasia's Golden Ratio Shaping Method®. Those who want to master the art of brow enhancement can enjoy a library of video tutorials for recreating Anastasia Beverly Hills's unique brow looks, including how-to videos of beauty products designed to help them achieve similar results themselves.
"For years, I've been perfecting the eyebrows of people all over the world. I am happy to share with you the magic that you would find in my salon on your mobile phone for the first time ever," stated Anastasia Soare, Anastasia Beverly Hills Founder and CEO.
—
"Through our partnership with Anastasia Beverly Hills and a collaboration with a proprietary augmented reality firm, we stayed close to users so that we can truly understand what they need for their brow and beauty regime, and delivered great support based on our findings. We feel honored for the opportunity to build an application that, for the first time, puts the unique and beautiful work of Anastasia Beverly Hills, as well as their incredible experience into the palms and pockets of their customers. We could not be more excited for what the future of beauty holds," added QUALITANCE CEO Mike Parsons.
The application that QUALITANCE has co-developed in close collaboration with the Anastasia Beverly Hills team is governed by design thinking principles and relies on an intense process of documentation and testing with end-users. The digital solution uses a mix of technologies, such as serverless architecture, computer vision and machine learning, respectively algorithms trained on user data sets related to face segmentation and skin color.
"Anastasia Beverly Hills: The Brow App", which is already available on the App Store, empowers users by delivering personalized, step-by-step guidance on how to recreate their perfect brow at home, and recommends what beauty products to use in their daily routine.