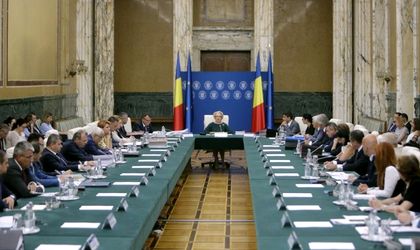 Romania's main ruling party PSD has decided to fire the heads of tax and public health insurance agencies following the fall of the former party president Liviu Dragnea and of its ally Darius Valcov.
On Monday, the prime minister Viorica Dancila has signed two decrees that change the chiefs of ANAF, the Romanian tax agency, and of CNAS, the public health insurance body – Mihaela Triculescu and Adriana Cotel, respectively.
Both officials were appointed with the help of Darius Valcov, the former economic adviser of PM Viorica Dancila, forced to resign on Monday following the conviction to jail of the former PSD president Liviu Dragnea.
Triculescu was replaced by Mirela Călugăreanu, a former head of ANAF in 2017, and by Razvan Vulcanescu, the former vice president of CNAS.
Many major politicians from Romania's ruling social democratic party (PSD) are being removed from their leadership positions in an attempt to salvage the image of what until recently was the country's largest political organisation.
Those who had close political ties and friendships with Liviu Dragnea, the most powerful politician in Romania, who was jailed at the beginning of the week, are now being "hunted" and forced to resign from all their party leadership roles.
The first head to roll as part of this move was of that of PSD's General Secretary Codrin Stefanescu. He will be replaced by Rodica Nassar, who is close with Bucharest mayor Gabriela Firea and has not been at the forefront of PSD politics so far. Codrin Stefanescu was one of Liviu Dragnea's biggest supporters, having backed all of his decisions, which were more or less made with a personal political interest.
PSD's interim president and prime minister Viorica Dancila also announced that she would cut ties with Anca Alexandrescu, who until recently was a communications advisor, removing her from both her government and PSD roles. Alexandrescu had been appointed to those positions by Liviu Dragnea.