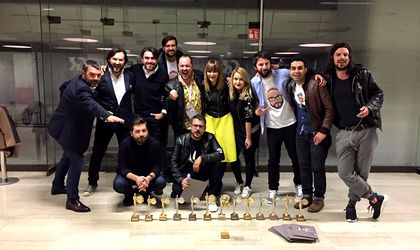 Publicis Romania has been named Agency of the Year after dominating the 2016 Golden Drum Festival by picking up the Golden Rose top award with a total of 17 nominations and 13 trophies: 2 Grand Prix, 5 Golden Drums and 6 Silver Drums.
"I'm very happy and flattered by this incredible result. Few people would probably have thought this possible a couple of years ago, but I always believed that nothing is impossible. And together with this great team and some really hard work we made it happen. All 7 campaigns we sent have been awarded, and in almost all categories. I'm also especially proud of our digital output! We keep building our young tradition of digital excellence, that proved consistently successful in the last years together with Nurun, our digital agency, part of Publicis Groupe Romania," said Jorg Riommi, chief creative officer – Publicis Romania.
The success was built on work for clients such as: Carrefour (4 trophies), Oppo, FIA&ACR, Arcub, Plantăm fapte bune NGO, National Museum of Natural History "Grigore Antipa" & WWF Romania, Dacia.
Established in 2004, the Golden Drum Advertising Festival of New Europe is one of advertising's biggest and most important events, a juncture between creativity and different cultures comprising 37 countries, from Austria in the West Europe to Russia in the North, and from Israel in the South to Turkey.
In this year's edition, the competition included 26 different countries. The Gala Awards was held on Friday night, in Ljubjana, Slovenia.
This year alone, Publicis Romania and Nurun also received 43 trophies and 22 shortlists at the biggest international and national festivals, such as: Cannes Lions, D&AD, New York Festivals, Effie Awards, Art Directors Club of Europe (ADC*E), AD Stars, Fibra Awards.
Romanita Oprea