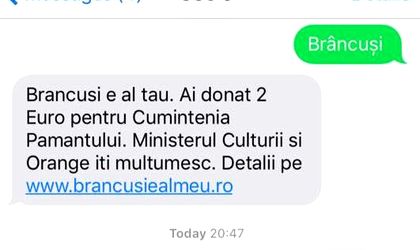 Today is the last day Romanians can donate money towards the purchase of Constantin Brancusi's seminal work Wisdom of the Earth. The campaign managed to raise EUR 1 million, five million short of its target.
The Wisdom of the Earth was made by Brancusi in 1907 and is part of the Romanian cultural patrimony, in the Treasury category. Currently, the sculpture is in the possession of the inheritors of architect Gheorghe Romascu, who bought it from Constantin Brancusi in 1911. The owners negotiated with the state the amount of EUR 11 million.
From the many works by Brancusi, which were sold in the last couple of years to collectors, this is one sculpture the Romanian state can purchase in order to make it accessible to the public and to art lovers.
The public subscription campaign was launched by the Ministry of Culture and the Government on May 19.  In June, the Government building was covered in a banner featuring the image of the modernist masterpiece alongside the Romanian flag and the message "Brancusi is yours, just like this country is yours."  
Donations worth EUR 2 for the purchase of the sculpture can be made via SMS at 8833. The message must contain the text "brancusi."
Georgeta Gheorghe