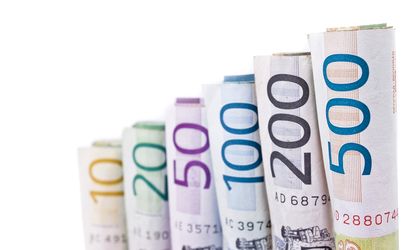 The Public Finance Ministry raised EUR 730 million from banks on Monday, more than double than it was scheduled, through a 6-year bond issue, at an average yield of 3.14 percent per year.
The nominal value of the issue was RON 300 million, but the banks transmitted offers amounting in total RON 933.6 million.
Another auction was scheduled for today, through which the state wants to reach another RON 45 million at the yield established on Monday.
The Ministry planned loans of RON 3.415 billion to the commercial banks in January, out of which RON 3.1 billion via seven tenders of treasury certification and state bonds and RON 315 million via special sessions of non-competitive offers, affiliated to the bonds tender.
The amounts will be for the refinancing of the public debts and the financing of state budget deficit.
According to the issuing forecast, the Ministry will organizes in January two tender treasury certifications with discounts, valued at RON 500 million each, on January 9 and 19.
Also five bonds tenders of benchmark type will be organized, with a total value of RON 2.1 billion, each followed by a supplementary session of non-competitive offers, with a value of 15 percent of the initial bonds issue.
Georgiana Bendre