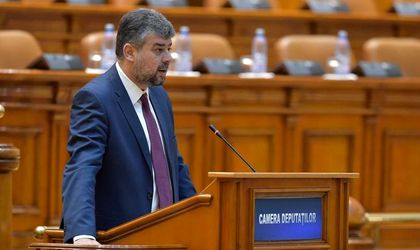 Romanian MPs in the Chamber of Deputies voted to elect a new chamber president on Wednesday after social democratic leader Liviu Dragnea was convicted to three and a half years in prison. The new leader of the lower house of Parliament will be Marcel Ciolacu from PSD, who got 172 votes and ran against liberal Raluca Turcan (100 votes) and UDMR's Kelemen Hunor (20 votes).
"We've made many costly mistakes. We can't play around with the term democracy. A government can be democratically removed through a vote of no confidence. I thank the PSD group for nominating me. I've never had enemies, I've only had political adversaries," Marcel Ciolacu said before the votes were cast.
Ciolacu was a founding member of the PSD Buzau organisation and led the branch between 2010 and 2012. He has been a vice mayor, local and county councilman, interim prefect and Buzau MP. He was also a known critic of former PSD leader Liviu Dragnea.
PNL's Raluca Turcan was supported both her own party and two other opposition parties – USR and PMP.
Another decision made during the plenary session today was to approve the formation of a parliamentary group for PRO Romania, the party led by former PM Victor Ponta, who has convinced several MPs from the PSD to switch parties in the past few months, reaching a total of 22, and obtained two seats in the European Parliament in the elections on Sunday.