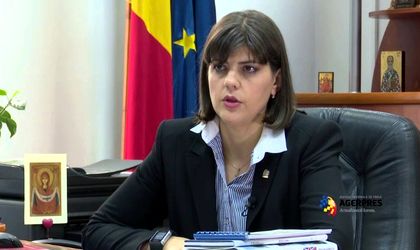 Deputy PM and minister of Administration and Regional Development, Paul Stanescu, said on Monday that PSD will decide upon a political position regarding DNA chief prosecutor Laura Codruta Kovesi, following a controversy that emerged on Sunday evening involving prosecutors from the anti-corruption body.
Paul Stanescu said that his personal opinion is that Kovesi can no longer lead the DNA and should resign.
PM Viorica Dancila said that she had not had a discussion with Justice minister Tudorel Toader on the subject of the accusations made lately against the DNA, but that they will talk about it, because "it is worrying" and adding that she is not "in a comfortable position".
Tudorel Toader has been evaluating the activity of the DNA chief, but has not yet said publicly whether or not he thinks Kovesi should continue in her position or not.
Television outlet Antena 3 had broadcast recordings where it is suggested that a defendant was asked by DNA prosecutors to plant evidence in another case which would incriminate Sebastian Ghita and former PM Victor Ponta. On the same show, former DNA prosecutor Mihaela Iorga said that Laura Codruta Kovesi had asked her to accelerate a case file of an ex-minister who was rumoured as the next proposal for prime minister at the time, and that the chief prosecutor would frequently get involved in cases.
PSD leader Liviu Dragnea said that "more and more evidence is starting to surface" that there is a "parallel state, a mafia trying to get the power in Romania" and demanded that an investigation begin as soon as possible to find out whether the recordings are real. He called prosecutor Iorga's statements "very serious criminal elements".
Former PM Victor Ponta accused DNA prosecutors that they opened cases based on "false evidence" and on "blackmailing witnesses", but added that he does not think the Justice minister will try to change anything because his leader Liviu Dragnea "won't let him", since Dragnea hopes that by covertly supporting the current system he will get rid of his own criminal issues.