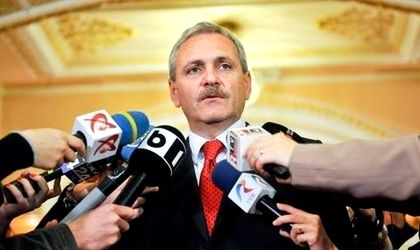 In a statement released on Saturday afternoon on his Facebook page, Social Democratic Party (PSD) head Liviu Dragnea called Romanian president Klaus Iohannis "the political sponsor of violence and extremist behaviours", and accused the Romanian head of state of planning to overturn the current executive and replace it with "his own government."
"Differences of opinion can never justify violence," Liviu Dragnea wrote on his Facebook account. "It is a serious matter that such acts of aggression have been preceded by calls, provocation or even direct involvement of several opposition parties. The most serious thing, however, is president Iohannis' Friday night irresponsible message, in which he criticises the gendarmes' intervention, although they did their duty in accordance with the law and took all necessary measure to reestablish public order."
"President Iohannis' statement is practically an act of undermining state authority and an urge to resume violence at the protest announced for Saturday, with the obvious purpose of overthrowing the current government and replacing it with  " his government", as it has once before done in this mandate.
Through this attitude, President Iohannis proves once again that he is the political sponsor of violence and extremist manifestations. Moreover, by requesting the Prosecutor's Office to investigate the gendarmes, he makes the law enforcement forces fearful, choosing the side of the aggressive groups, against the institutions that the Constitution asks him to support," Dragnea's statement reads.
"It is regrettable that a peaceful peaceful protest action has been hijacked and has resulted in numerous injuries and material damage to serve an illegal political purpose," Dragnea adds.
"State institutions must firmly act to ensure the rule of law and to hold those who have caused the violence responsible. With all due respect for the demonstrators who want to express their ideas peacefully, everyone must understand that Romania is a state of law in which the law rules, and this law is imposed by the institutions consciously consecrated." Dragnea warned.
"It is unacceptable that in front of the Government building, in the heart of the Romanian capital and the Romanian state, organized groups, supported by the opposition and the country's president himself, can attack the constitutional order," he said.
"Gendarmes do not only defend the government building. They defend authority, order, rule of law, state institutions, sovereignty and country independence. Including the right to free and peaceful protest against anyone.
As President of the Chamber of Deputies and PSD chairman, I want to assure all Romanian citizens that Parliament will not allow anyone, to dissolve democracy, to suspend individual rights and freedoms, to change the outcome of elections and to overthrow by violence , the order in the Romanian state.
Citizens' safety, public order and law enforcement institutions must firmly act against any attempts of public violence, politically fueled, or interfered with by other power interests," Dragnea said.
"I appeal to all citizens who want to continue to manifest: be peaceful. Avoid joining violent groups, avoid putting yourself and your family at risk. Power is won by vote, in polls, ideas are debated with arguments, not stones, bottles and fire.
I have respected and will always respect the constitutional right of citizens to participate peacefully in public demonstrations. But it is illegal for such manifestations to be used and diverted by some political people to forcefully change the legitimate political power.
Romanians should not be forced to live in a country ruined by violence and division. They have the right to enjoy the benefits of economic growth, a better life, greater income, security and peace, a better future for them and their children," Dragnea's statement concludes.